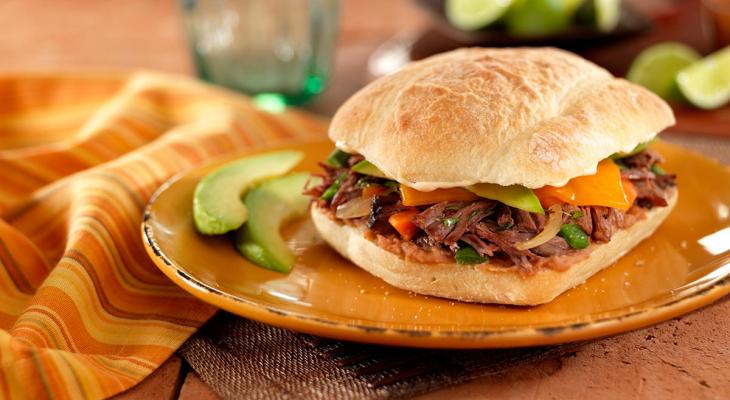 Fresh flavors from the lime juice, cilantro and avocado brighten this sandwich and make it a winner.
Ingredients
2 ½ lbs. Boneless Beef Chuck Pot Roast
1 White Onion, sliced
14 oz. Beef Broth
¾ cups Refried Beans
1 ½ cups Finely Shredded Sharp Cheddar Cheese
2 Avocados, peeled, seeded, & sliced
Preparation
1. Place beef pot roast and 1 onion in large pot; add beef broth. Bring to a boil. Reduce heat; cover tightly and simmer until beef is fork-tender, about 3 hours. Remove beef from cooking liquid, cool slightly. Strain cooking liquid and skim fat; set aside. Trim and discard fat from cooked beef. Shred beef with 2 forks.
2. Combine shredded beef with ½ cup cooking liquid
3. Spread bottom half of each La Brea Bakery Torta Sandwich Roll with refried beans and spread the other half with Ancho Chili Mayonnaise. Spoon about 2/3 cup hot meat mixture on each roll, drizzle with Chipotle Dressing, cheese, onion slices and avocados. Close sandwich. If desired, serve remaining cooking liquid as dipping sauce.
**Chef's Notes (short-cut): recipe can be prepared using 2 packages (17 oz each) refrigerated, fully-cooked pot roast or roast beef au jus. Skip steps 1 and 2. Prepare beef according to package directions. Shred beef with 2 forks. Combine shredded beef with ½ cup gravy or au jus. Prepare sandwiches as in recipe step 3 above.