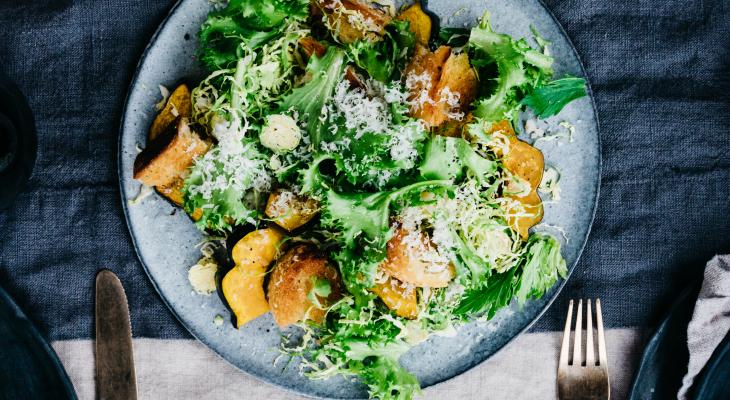 This fall Panzanella with roasted squash and creamy lemon pepper dressing, incorporates our very own sesame semolina loaf for its crispy crust and soft, flavorful inside.
Ingredients
1 Acorn squash

1 Tablespoon olive oil

1/2 Teaspoon salt

2 Heads frisee

Leaves from one bunch celery

2 Cups shaved brussel sprouts

6 Tablespoons crème friache

2 Tablespoons olive oil

2 Teaspoons honey

4 Tablespoons lemon juice

2 Cloves garlic, crushed

1 Teaspoon freshly cracked black pepper

Generous pinch of salt

3 Thick slices La Brea Sesame Semolina Bread

Olive oil for frying

Parmesan cheese to garnish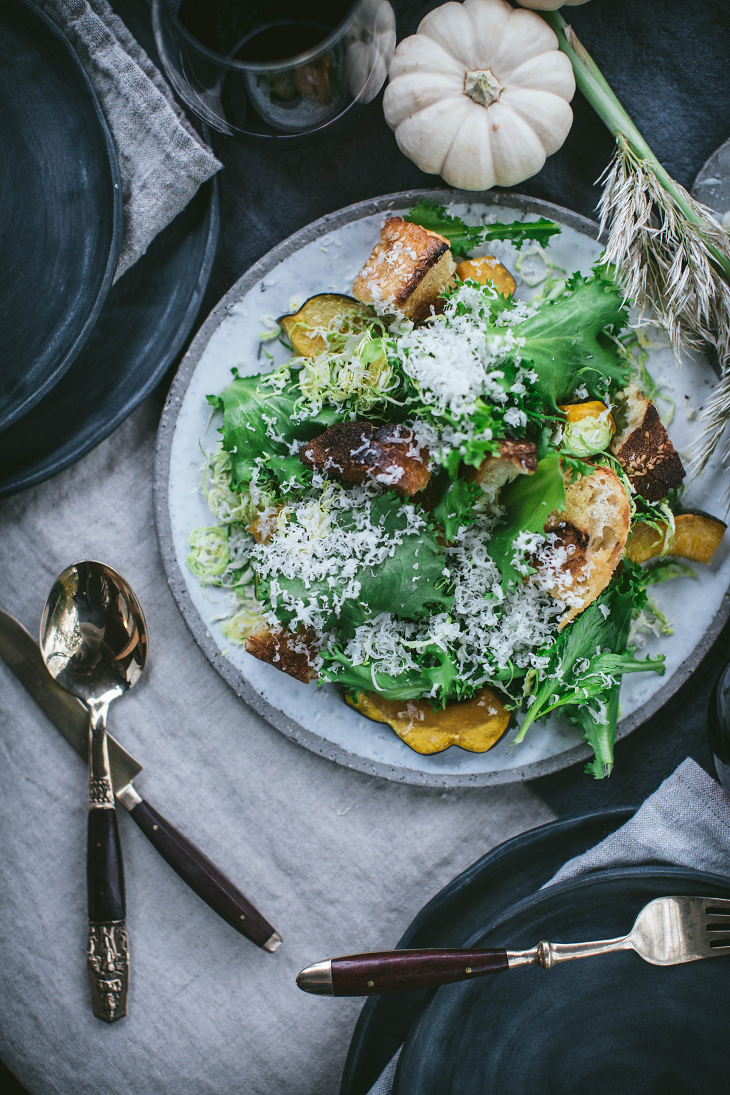 Preparation
Preheat the oven to 425­­° F. Line a baking sheet with parchment and set aside. Cut the acorn squash in half. Using a spoon, scoop out and discard the seeds. Cut the squash into ½-inch thick semi-circles. Cut each semi-circle in half again. Toss the squash with the olive oil and salt and roast in the oven for 30-40 minutes. Remove from the oven and allow to cool.
Meanwhile prepare the dressing. Combine the crème fraiche, olive oil, honey, lemon juice, garlic, pepper and salt in a small bowl and whisk until smooth. Set aside.
To make the croutons, heat a skillet over medium heat. Add a generous glug of olive oil and toast the bread until golden brown and crispy on both sides, adding more oil as necessary. Transfer to a cutting board. Once cool enough to handle, cut or tear into 1-inch cubes.
Tear the leafy greens from the frisee and add to a bowl with the celery leaves, shaved brussel sprouts and croutons.
Dress the salad and top with finely grated parmesan.
Recipe by: Tending the Table