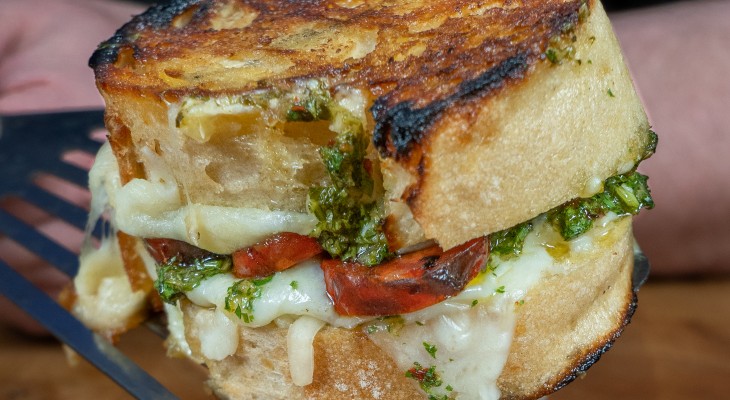 Recipe by Mark Anderson and Ryan Fey - Grill Dads for La Brea Bakery
Ingredients
1 bunch fresh parsley, about 1/2 cup leaves, roughly chopped
1 bunch fresh cilantro, about 1 cup leaves and stems
2 tablespoons fresh oregano leaves
2 tablespoons red wine vinegar
1 tablespoon champagne vinegar
2 teaspoons red pepper flakes
4 cloves garlic
1 shallot, coarsely chopped
Kosher salt, for seasoning
½ cup olive oil 
1 pound linguica Brazilian sausage 
1 La Brea Bakery Take-And-Bake Garlic Loaf 
1 (4-ounce) stick salted butter 
8 ounces Oaxaca cheese, grated  
8 ounces Queso quesadilla cheese, grated 
8 ounces Monterey Jack, grated 
Preparation
Make the chimichurri first by combining the parsley, cilantro, oregano, garlic, red pepper, and vinegars in a blender. Pulse into a thick paste and add a heavy pinch of kosher salt and olive oil and combine until you have a thick but chunky sauce. 
Heat a grill for medium-high direct heat. Add the linguica sausage links and cook for 3 to 4 minutes per side. You're looking for crispy, blistered skin on all sides, about 12 minutes total. Remove the sausage from the grill and set aside. 
Slice LaBrea Bakery Take-And-Bake Garlic Loaf into 1-inch thick pieces, you should get about 8 out of the loaf. Butter one side of each slice. Grill the bread directly over medium-high until browned, about 2 minutes. Remove the bread from the grill. 
Toss the cheese together in a medium mixing bowl. Slice the linguica sausage into bite sized pieces. 
Build the sandwiches on a baking sheet. Top each slice of bread with some of the cheese mixture. Top half of the slices with the chimichurri sauce and the other halves with the sliced sausage. Put the baking sheet on the pan until the cheese is melted, about 5 minutes. Use a spatula to flip the chimichurri side onto the sausage side. Serve the sandwiches hot.