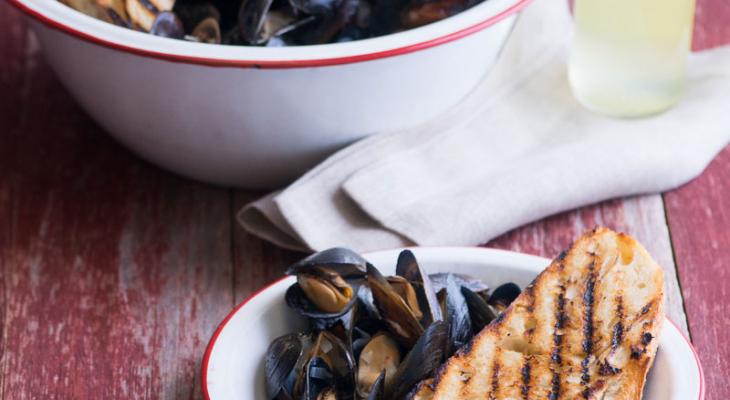 There is nothing better than a bowl of mussels complemented by our Roasted Garlic loaf. Divine!
Ingredients
2 Tbsp. Extra Virgin Olive Oil
2 cloves Garlic, peeled
1 Pinch of Salt
Freshly ground black pepper
2 Shallots, large
2 cups Dry White Wine
2 Tbsp. Unsalted Butter
2 lbs. Cultivated Mussels
2 Tbsp. Chopped Fresh Tarragon Leaves
Preparation
Heat grill to high.
Sprinkle garlic with a pinch of salt. With the flat side of a large knife, mash and smear the garlic to a coarse paste.
Heat the oil in a deep pot on the grates of the grill, add the shallots and garlic and cook until shallots soften.
Add the wine, bring to a boil and stir in the mussels. Cover the pot and cook the mussels until all of them have opened, about 6 to 8 minutes, discard any that do not open.
Brush both sides of the bread with oil, season with salt and pepper and grill until lightly golden brown and repeat on other side.
Remove the mussels with a slotted spoon to a large bowl. Bring the cooking liquid to a simmer and whisk in the butter. Season with salt and pepper, to taste, and stir in the tarragon.
Pour the mixture over the mussels and serve immediately with the grilled bread.