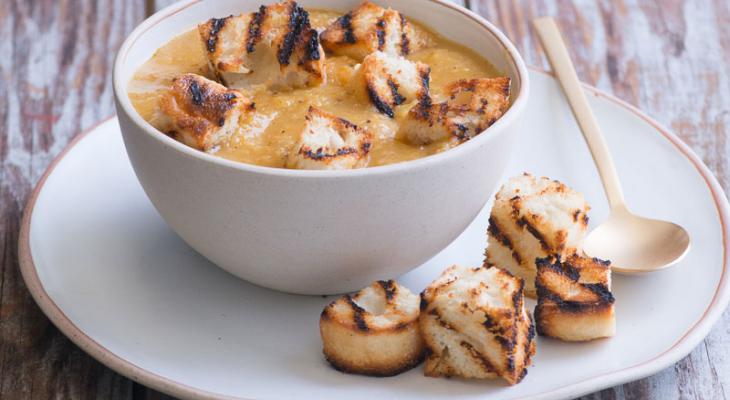 A light and refreshing soup that pairs perfectly with our Rosemary Olive Oil Loaf.
Ingredients
2 Medium Yellow Bell Peppers
6 Tbsp. Olive Oil
2 cloves Garlic, peeled
2 cups Dry White Wine
8 Medium Yellow Tomatoes (halved and seeded)
¼ cups Lime Juice
¼ cups Coarsely Chopped Basil
1 tsp. Cayenne Pepper
Salt & Pepper to taste
Preparation
Preheat grill to high. Coat peppers with olive oil and grill until blistered with some charred spots on all sides, 3 to 5 minutes. Seed and coarsely chop.
Over medium heat add 3 Tbsp. of olive oil, add onion and garlic and cook until translucent, about 5 minutes. Raise heat to high, add wine and bring to a boil. Cook until wine has completely evaporated.
Coat tomatoes with olive oil and grill until just cooked through, about 2 minutes on each side. Remove and coarsely chop.
Once the wine has evaporated, reduce heat to low, add tomatoes and peppers and cook 20 minutes stirring occasionally. Add the lime juice and puree. Add the basil, cayenne and season with salt and pepper. Let cool.
While soup is cooling, cut Rosemary Olive Oil Loaf into large 1" cubes and place in a bowl. Drizzle olive oil, season with salt and pepper and mix. Place cubes on the grill turning until they form a light crust, but remain soft in center.
Pour into bowls, add grilled croutons and serve.