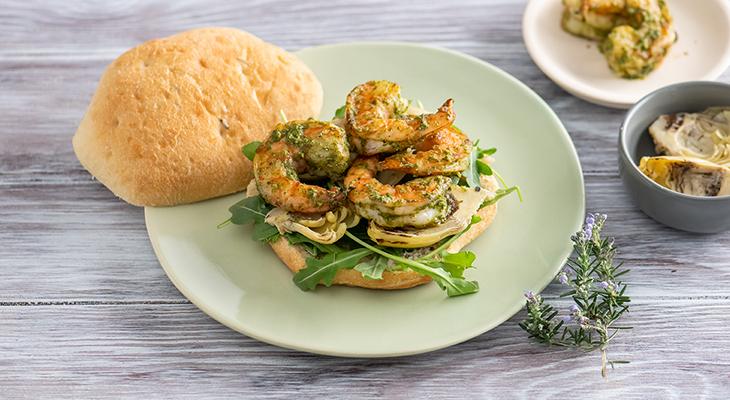 Ingredients
1 Take & Bake Focaccia Roll

¼ Llb medium size Shrimp

1 Tbsp Pesto (favorite recipe or store bought)

2 Grilled Artichokes (favorite store bought)

½ cup fresh Arugula

Salt and Pepper 

1 Tsp Olive Oil

 
Preparation
1. Set outdoor grill or stovetop grill pan to medium heat.  
2. Drizzle shrimp with olive oil and season with salt and pepper.  Put shrimp on the  grill and cook for 2 minutes on each side. Remove, put in a bowl and coat with Pesto.
3. Slice the roll in half lengthwise and brush with Olive Oil.  Place on the grill crumb side down just until they get some color, 1 min.
4. To build the sandwich, place the rolls on a flat surface and put Arugula on the bottom piece. Add the Artichokes and then the Pesto shrimp.  Top with roll and serve.