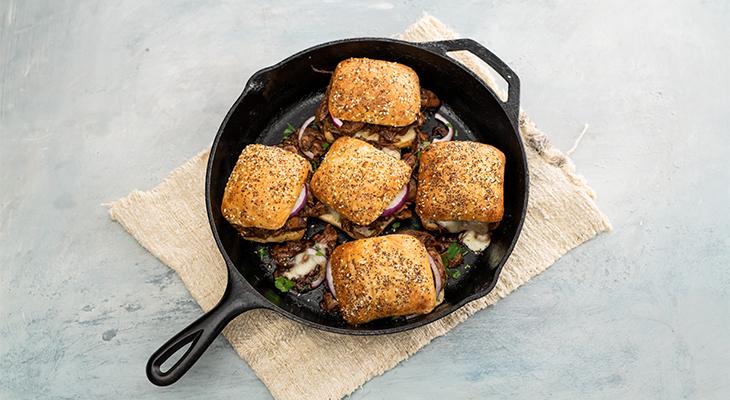 You might not know how to clean a cast iron skillet properly, but you can definitely make these easy, hard-to-beat braised beef sliders in one.
Ingredients
5 Take & Bake Everything Rolls
3oz Braised Beef
1 Small Red Onion, sliced thin
2 Cups grated Mozzarella cheese
1 Tbsp Grapeseed Oil
Preparation
Heat oven to 350℉.
Place a cast iron skillet over medium heat. Turn off heat after 3 minutes.
Add the grapeseed oil and swirl to cover all areas of the pan. Cut Everything Rolls in half and toast by placing the cut-side down in the pan until there is light golden color.
Remove the top halves of the rolls and evenly arrange the remaining bottom pieces in a circle with one piece in the center. Note: the pan is hot, so be careful not to touch it. 
To assemble the sandwiches, start by adding cheese to each bottom piece, then adding even portions of braised beef. Add the onion and chopped parsley. Then add the top of the rolls; cover with foil.
Put the skillet in the oven for 2 to 3 minutes, just until the cheese is melting. Uncover and cook for another minute.
Remove from the oven and serve immediately.