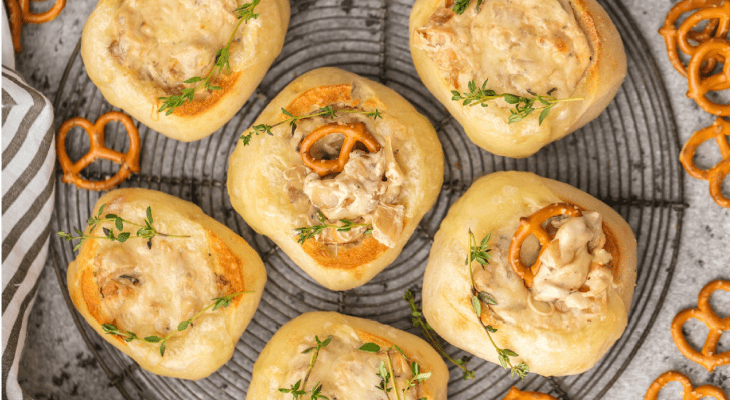 These mini bread bowls filled with cheesy French onion dip are sure to be a hit with guests at your next get together.
Ingredients
¼ cup Butter, Salted
1 Large White Onion, Chopped
1 Cloves Garlic, Minced
¼ cup Beef Broth
2 Tbsp. Red Wine
4 oz. Cream Cheese, Room Temperature
½ cup Low Fat Sour Cream
¾ cup Mozzarella Cheese, Shredded
Salt and Pepper to taste
6 slices Swiss Cheese, Thin slices cut in half
x Pretzels for dipping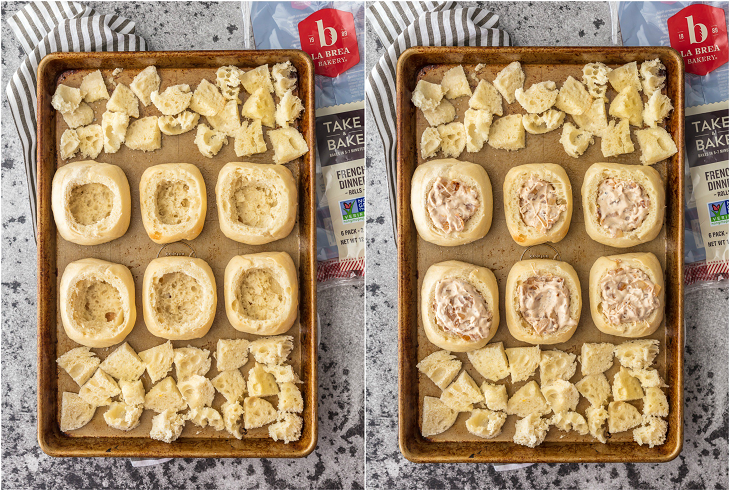 Preparation
1.    Preheat oven to 350 degrees F.
2.    Carefully cut the top of each roll off, about 1/2 inch down from the top. Leaving a 1/2 inch border, hollow out each roll, saving the inside and cutting into cubes. You can also cut the top of each roll into cubes. Lay the rolls on a large baking sheet as well as the cubed insides. Spray with olive oil spray or drizzle with olive oil and set aside.
3.    Melt butter in a large skillet over medium high heat.
4.    Add the onions and garlic to the butter and stir to coat. Cook, stirring occasionally, for about 15 minutes or until the onions are fully caramelized and translucent.
5.    Add the broth and wine to the onions and stir to combine. As soon as its all simmering, reduce the heat to low.
6.    Stir in cream cheese, sour cream, mozzarella, and salt and pepper. Remove from the heat.
7.    Spoon the onion dip mixture into each bread bowl, about 2 tablespoons per roll. The dip should be just slightly higher than the top of the opening.
8.    Bake uncovered for 5-6 minutes.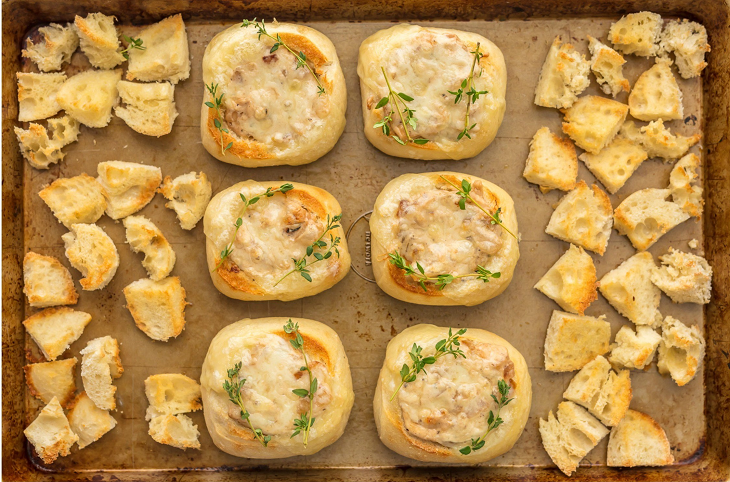 9.    Remove from the oven and place half a slice of Swiss over the top of each bread bowl.
10.    Return to the oven and switch to broil. Broil for 2-3 minutes or until the Swiss is bubbly and the bread is slightly browned/crisp.
11.    Serve immediately with the toasted bread cubes and extra pretzels for dipping.
12.    Enjoy!
 
Recipe by: The Cookie Rookie