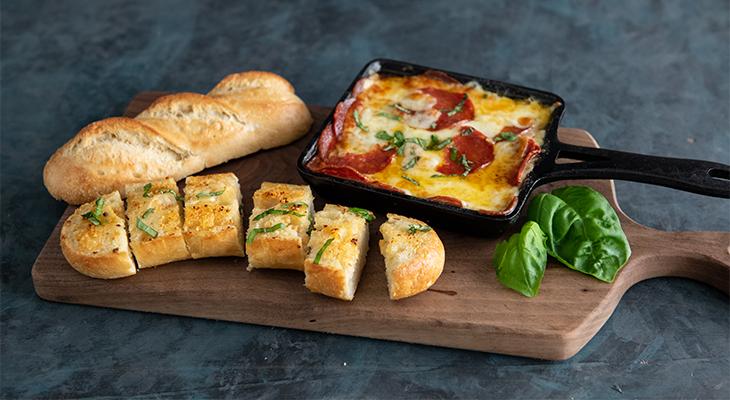 Pepperoni. Cheese. Dip. You're welcome. 
Ingredients
½ cup pepperoni slices
8-10 slices provolone cheese
Fresh basil
1 tsp. garlic, minced
1 tbsp. butter, softened
1 tsp. hot honey
1 tsp. red pepper
Preparation
Heat the oven to 350℉.
In a small cast iron skillet, layer cheese and pepperoni slices, alternating until the skillet is full. Bake in the oven until the cheese is completely melted and starting to brown. 
Cut the Demi French Baguette in half lengthwise; spread butter evenly on both halves. Add garlic and red pepper to each side and place in the oven to toast. Remove and cut crosswise into 1-inch pieces. 
Remove pepperoni dip from the oven, drizzle with hot honey, garnish with fresh basil, and serve with toasted garlic bread.