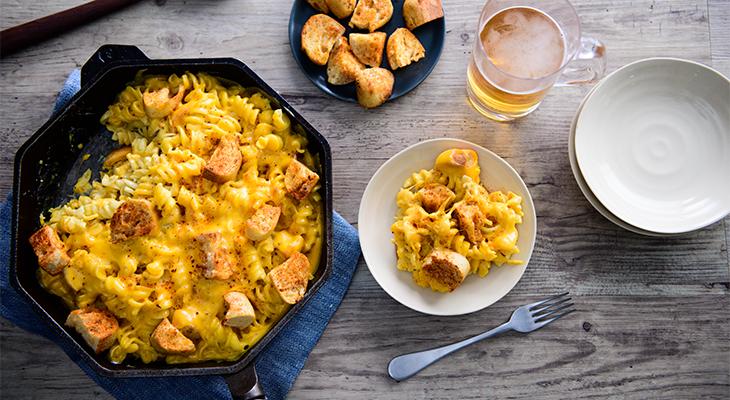 Nothing is more American than football. But Mac n Cheese is a definite contender. Do we even need to remind you not to skimp on the croutons? Didn't think so.
Ingredients
4 Take & Bake French Dinner Rolls
4 oz Blackened Chicken Breast
1 lbs Fusilli pasta cooked
1 16oz package of Velveeta Cheese
½ cup shredded Mozzarella Cheese
Spiceology Black and Blue spice blend
Parmesan cheese
Preparation
Preheat oven to 350 degrees.
Put a large saucepan over medium-low heart and add velveeta cheese. Cook until fully melted, stirring occasionally. Fold in the mozzarella cheese.  Season with salt and pepper and then add the chicken and combine.  
To make the croutons, cut the rolls lengthwise into thirds and then across making cubes. Put them into a bowl and spray with olive oil. Season very generously with Spiceology Black and Blue blend and mix to fully combine,  Transer to a baking sheet in 1 single layer and bake in oven for 5-8 minutes or until just starting to get some color.  Remove and set aside. 
Add half the croutons to the mac and cheese mixture and combine. Pour mixture into a cast iron skillet and then finish by playing the remaining croutons on the top and push them in into the mac and cheese until about halfway down. 
Please skillet in oven and look cook for 5 minutes or until hot and croutons are golden brown.  Remove and serve.