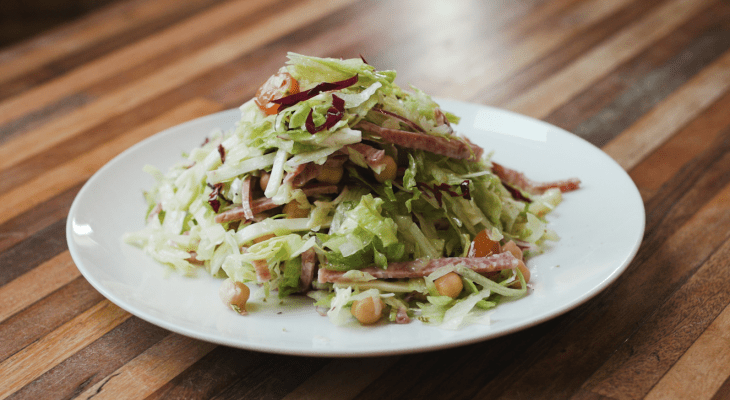 Ingredients
4 ounces Italian salami, sliced 1/8 inch thick
4 ounces provolone cheese, preferably aged, sliced 1/8 inch thick
1 pint Sweet 100's or cherry tomatoes, or 1-2 large tomatoes (about 10 ounces)
1/2 medium head of radicchio, finely chopped (about 2 cups)
1 small head finely shredded iceberg lettuce (about 4 1/2 cups)
2 ounces Roquefort or other blue cheese
1 can of drained chickpeas
8 pepperoncini 
For the Vinaigrette 
2 teaspoons fresh lemon juice
1 tablespoon red wine-vinegar
2 teaspoons dried oregano, plus extra for sprinkling 
1 garlic clove peeled and finely chopped (about 1 teaspoon)
1/4 cup vegetable oil
1/4 cup extra-virgin olive oil
3/4 teaspoon kosher salt
Freshly cracked black pepper, to taste 
Preparation
To make the vinaigrette: In a bowl, whisk together the lemon juice, vinegar, oregano, garlic, oils, salt and cracked black pepper to taste. 
Slice the salami and cheese into 1/8 inch-wide matchsticks. 
If you're using Sweet 100's, cut them in half. If you're using cherry tomatoes, cut them into quarters. If you're using large tomatoes, cut them in half, scrape out the seeds, and chop into 1/2-inch dice. No matter which kind of tomato you're using, the amount should equal about 1 1/2 cups cut or chopped. 
In a large bowl, combine the salami, provolone cheese, tomatoes, radicchio, iceberg lettuce and chickpeas. 
Pour the vinaigrette over the salad, and toss well. 
Crumble the blue cheese on top of the salad and sprinkle a pinch of oregano on top. Serve the pepperoncini on the side.