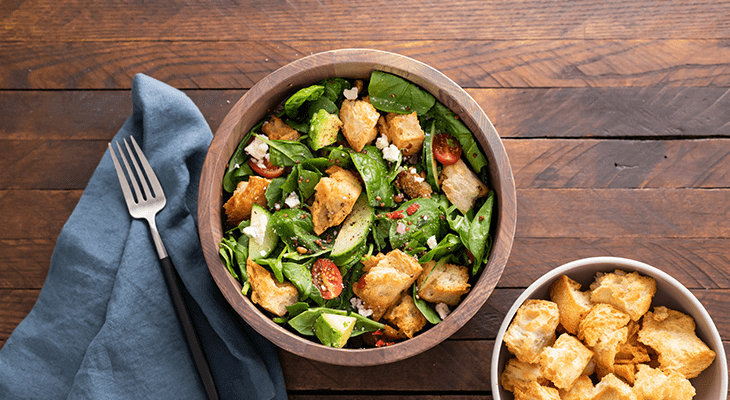 Ingredients
4 slices of Sourdough cubbed or torn into 1'x1' pieces
3 cups of mixed salad greens
1/2 avocado cut into 1/2" dice
1/2 cucumber sliced
1/2 cup cherry tomatoes sliced
1/4 cup goat cheese
1/4 marinated artichokes
1 Tbsp roasted red peppers chopped
2 Tbsp citrus vinaigrette (favorite recipe)
Salt and pepper
Preparation
Set oven to Bake and preheat to 350 degrees.
Spray or drizzle bread pieces with olive oil and place in the oven and bake until just starting to brown. Remove from oven.
In a big bowl, combine mixed greens, avocado, artichokes, cucumber, tomatoes, goat cheese and peppers. Add vinaigrette, salt and pepper and toss.  Add toasted bread and toss again gently.  Serve while bread is warm.