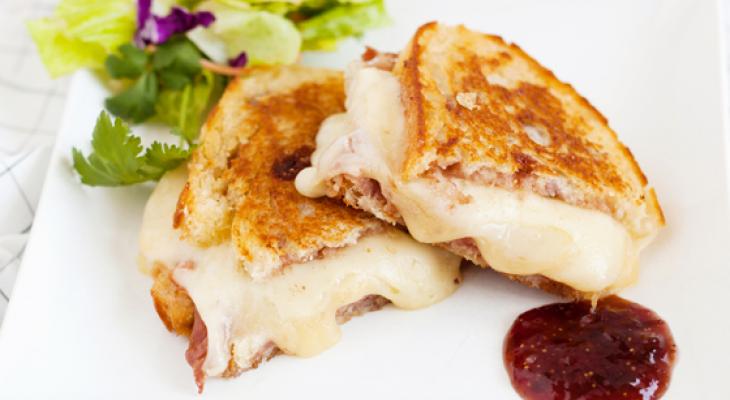 This recipe pulls its inspiration from an elevated cheese and charcuterie board full of prosciutto, Italian cheeses, figs, and crostini.  Not to mention it pairs quite well with a glass of your favorite wine.
Recipe and images by: Melo-Drama
Ingredients
Slices Prosciutto
Slices Provolone Cheese
Slices Fontina Cheese
1 dollop Fig Jam
1 dollop Butter
Preparation
Slice your bread into even slices and spread a layer of fig jam onto one side of each slice.
Layer 2-3 slices (depends on how gooey you want it) of each meat and cheese on the jam side of the bread and close it up.
Heat butter in a pan on medium heat until it's sizzling. Put the sandwich in the pan and grill until each side is golden brown. Stay low and slow so the cheese has time to melt before the sandwich gets burned. If you need more melting time, go ahead and pop the pan into a 300 degree oven for a few minutes.
Serve with an extra little dollop of fig jam (and wine) and enjoy!
Recipe adapted from Melodrama Blog.