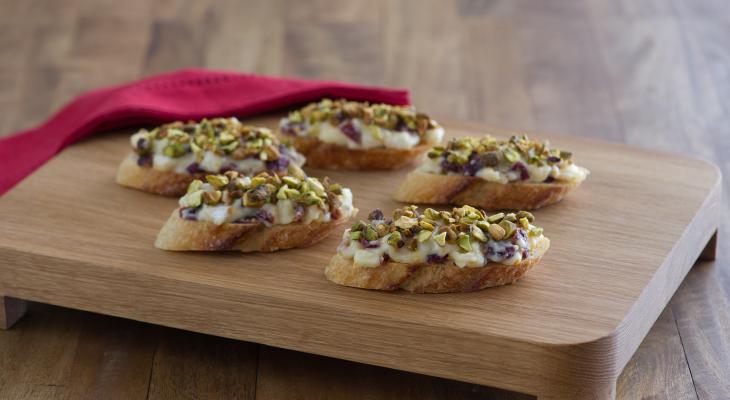 Ingredients
1 La Brea Bakery Sourdough Baguette, ½" angled slices
2 Tablespoons butter, melted
2 Tablespoons olive oil
12 ounces fresh cranberries
2 Tablespoons balsamic vinegar
1/2 cup sugar
1 Tablespoon rosemary
4 ounces triple cream Brie
1 cup chopped pistachios
Preparation
Preheat oven to 425 degrees.
In a small bowl, whisk together the butter and olive oil. Brush both sides of the baguette slices with mixture and line them up on a baking sheet. Set aside.
In another small bowl, stir together the cranberries, balsamic vinegar, sugar, and rosemary. Spread these out on a rimmed baking sheet. 
Peel the rind of the Brie, slice and put in an oven safe dish.
Place the cranberries in the oven. Roast for five minutes, then add the tray of baguette slices to the oven. Roast for an additional 6 minutes then remove the baguette slices, flip them over, and return to the oven along with the Brie for another 4-6 minutes, or until crispy and golden. At this point, the cranberries should be popped open with juices running out. Remove both the cranberries, Brie and baguette slices from the oven.
Add the cranberries to the melted Brie until they are thoroughly combined.
Top each baguette with a scope of the Brie and cranberry mixture and sprinkle with the chopped pistachios.