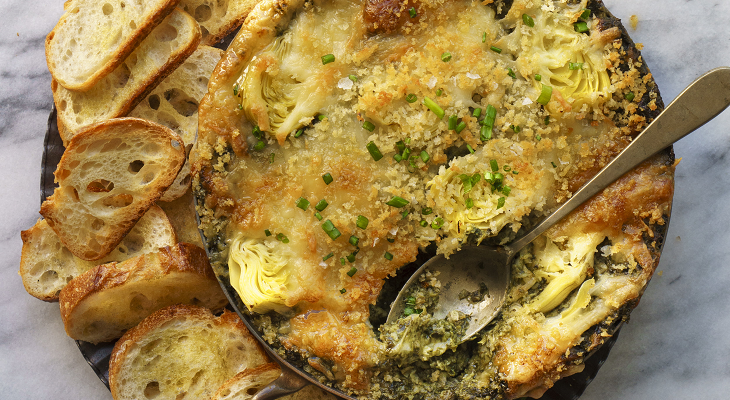 A slightly lighter spinach and artichoke dip with all of the creamy flavor, made lighter by using more spinach and artichokes.
Ingredients
¼ cup olive oil
1 onion, diced
2 cloves garlic minced
1 can artichoke hearts, plus more for garnish
1 lb frozen spinach defrosted and excess liquid squeezed removed
¼ cup mayonnaise
1 cup sharp white cheddar
1 ½ cups gruyere cheese
1 Tbs. lemon juice
2 Tbs. Panko breadcrumbs
Preparation
Preheat oven to 350°F.
Warm 1 tablespoon olive oil in a medium skillet over medium heat. Add the onion and saute until soft and translucent. Add the garlic and cook for another 30 seconds. Remove from heat.
In the bowl of a food processor pulse together the artichoke hearts, spinach, and mayonnaise until the artichoke hearts are broken up. Add the cheddar and 1 cup of the gruyere, lemon juice and a large pinch of salt and pepper.  Transfer the dip to an oven proof container then top with remaining ½ cup of gruyere cheese. In a small bowl combine the Panko breadcrumbs and the remaining olive oil. Sprinkle the breadcrumb mixture over the artichoke dip and bake for about 20 to 25 minutes or until the top is golden brown and bubbling.
While the dip is baking, make the crostini to serve alongside. Slice the baguette into ½" slices. Brush with the remaining olive oil and place on a parchment lined baking sheet. Bake in the same oven as the dip for about 10 minutes or until golden brown and crunchy.
Serve the spinach and artichoke dip warm along with a handful of the crostini.
Recipe by: Amanda Frederickson