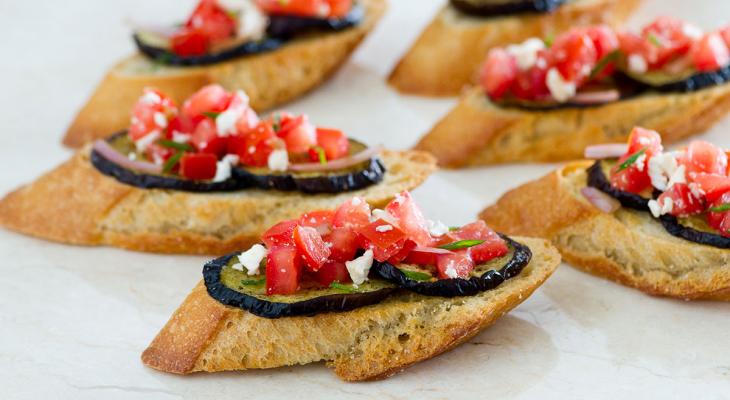 A great and flavorful way to take your baguette and elevate it for company.
Ingredients
1 oz. Olive Oil, Extra Virgin
4 Japanese Eggplant
6 Roma tomatoes
4 Shallots, large
2 oz. Balsamic Vinegar
6 oz. feta cheese, crumbled
1 bunch Chives, fresh, finely chopped
Fine sea salt
Freshly ground black pepper
Preparation
Preheat oven to 375 degrees. Cut baguette into twelve ½" slices on an angle. Place the slices on an ovenproof sheet pan and brush with olive oil. Slice the eggplant into 1/2" thick slices and toss with remaining olive oil in a bowl until the eggplant has absorbed the oil. Dice tomatoes.
Peel shallots, remove core, halve end to end, and cut into fine strips. Toss in a small bowl with the balsamic vinegar, diced tomatoes and feta.
Arrange eggplant on a nonstick baking sheet and season lightly with salt and pepper and place in oven for 20 minutes or until eggplant is tender.
Remove from oven and set tray aside. Place tray of bread in the oven and toast until bread is lightly golden. Place one slice of eggplant on each piece of bread. Sprinkle the shallot, tomato and feta mixture on top. Top with chives and serve.