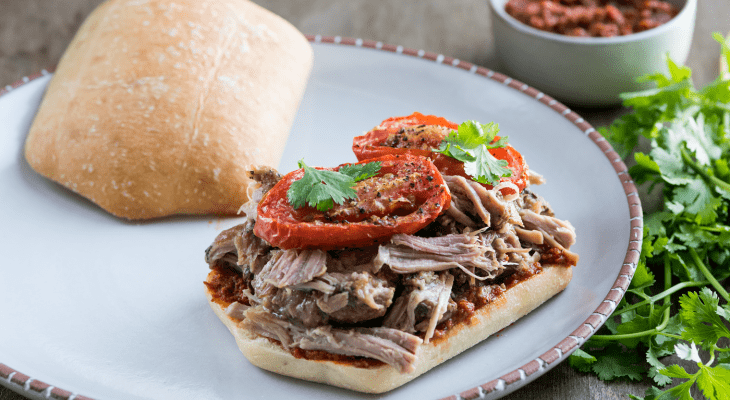 A traditional carnitas torta recipe full of braised pork roast and smoky chipotle flavor, in between our La Brea Bakery Telera Roll.
Ingredients
½ lbs. Pork Carnitas and 1 Tbsp. Liquid Reserved (Tip: Try adding rosemary to braising liquid)
1 Plum Tomato Sliced Crosswise
1 Jar Sun Dried Tomato Chutney (Favorite Store Bough)
1 Tbsp. Chipotle Peppers in Adobo
1 tsp. Agave
Cilantro to Garnish
Preparation
Preheat oven to 350 degrees.
Put sliced tomatoes on baking sheet and bake in oven for 25 min or until soft and starting to char. Remove and let cool.
For Chutney, mix Sun dried tomato chutney with 1 Tbsp of Chipotle peppers in adobo and agave.
To assemble, spread Chipotle and Sun dried tomato chutney on bottom half of roll. Add carnitas and spoon over reserved liquid. Place oven roasted tomato on the carnitas, garnish with Cilantro and top with remaining half of roll.