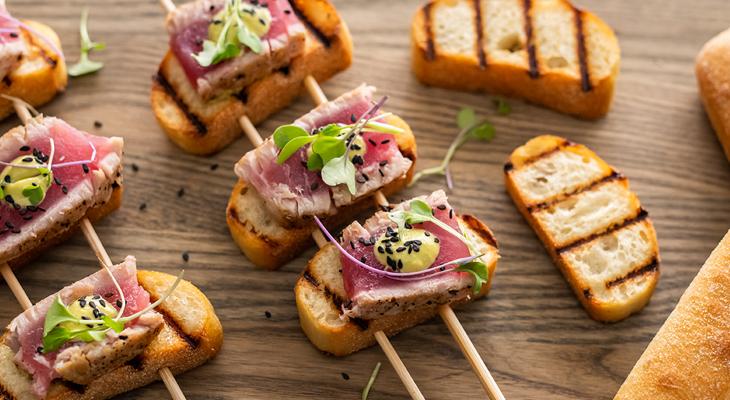 Ingredients
2 Take & Bake French Sandwich Rolls

8 Oz. piece of high quality Tuna

5 Jalapeno Peppers

4 Garlic cloves, peeled

5 Tbsp fresh Lime juice

1 Tsp salt

½ Cup neutral oil

¾ Cup of Cilantro with stems (optional)

1 Tsp Olive Oil

8 Wooden Skewers

¼ Cup micro-greens or other delicate greens

 
Preparation
Skewers:
1. Set outdoor grill or stovetop grill pan to medium heat.  
2. Slice the rolls into 1 inch wide slices and then add 3 slices to each skewer so that the bread will lay flat with crumb against the work surface. 2 skewers in each piece of bread to ensure the bread does not spin and is stable.
3. Brush each piece with olive oil and place on the grill until the bread has grill marks and slightly toasted. Remove and set aside.
4. Brush Tuna with remaining olive oil and place on the grill for 2 minutes. Flip and grill for 1-2 minutes and remove for medium rare temperature. Set aside.
5. Slice Tuna crosswise into ½ slices and lay one slice on each piece of bread.
6. Add a small dollop of sauce and top with micro-greens.  Serve and enjoy.
Jalapeno Sauce:
1. Put jalapenos, garlic, lime juice, and salt in a blender or food processor and pulse until puréed.
2. With motor running, slowly drizzle in oil until a thick sauce forms.
3.  Add cilantro if using and pulse a few times until chopped and incorporated.
4. Taste and add more jalapeño, if necessary.