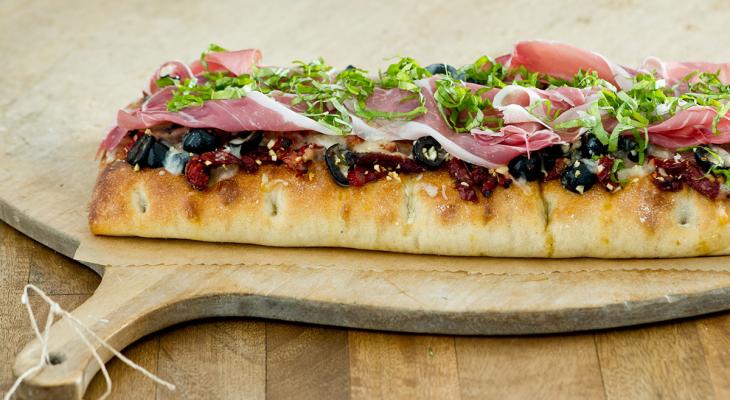 This Mediterranean pizza has fresh flavors that the whole family will love.
Ingredients
4 oz. Sun Dried Tomato, Packed in Oil
6 cloves Garlic, peeled
8 oz. Olives, pitted
4 oz. Olive Oil, Extra Virgin
4 oz. Basil, fresh
8 oz. Shredded Cheese Blend
8 oz. Prosciutto, thinly sliced
Preparation
Preheat oven to 400 degrees. Place Ciabatta loaf on an ovenproof sheet pan.
Finely chop garlic and place in a medium-sized mixing bowl with the olive oil. Coarsely chop tomato and olives and add to garlic. Toss to combine and spread this mixture evenly over the entire Ciabatta loaf.
Scatter the cheese over entire loaf, being careful not to go past the edges or the cheese will burn. Place the Ciabatta in the oven and remove from oven when the cheese is thoroughly melted. Carefully remove the prosciutto slices from the wrapping and arrange them to cover as much of the Ciabatta loaf as possible.
Remove the stems from the basil and cut leaves into fine strips. Sprinkle the basil evenly over the Ciabatta and cut into five rectangles and then each of those into three rectangles.