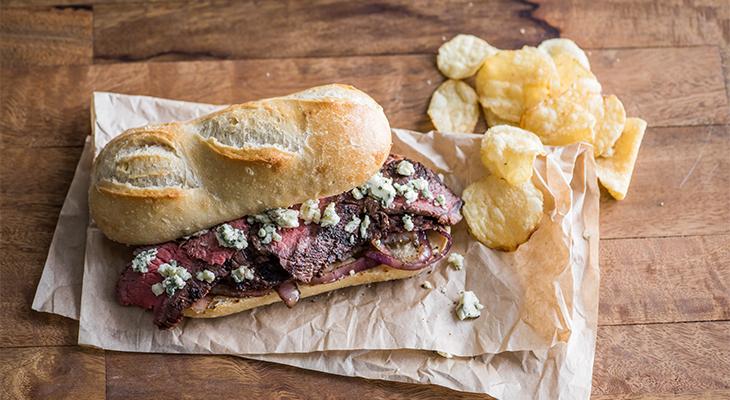 Tri-tip and cheese. Because even if Brady and Gisele don't work out, we can still believe in perfect pairings.
Ingredients
1 lbs. Grilled Angus Tri Tip (4 ounces per sandwich)
½ oz Gorgonzola, Crumbled
1 Large Red Onion
1 Tbsp. Olive Oil
Salt and Pepper to taste
Preparation
Season and grill the beef to the desired doneness and allow to rest before slicing.
For the Onions: Preheat the grill or a grill pan. Peel the onion and slice it into 1/3-inch thick rounds. Brush the onion slices with oil and grill over medium heat, until the onions soften and get grill marks, about 6 minutes on each side. Season with salt and pepper, to taste.
With a serrated knife, cut each demi baguette in half, lengthwise; lightly toast. Arrange bottom halves for assembly.
Slice the beef and divide the grilled onions among the four sandwiches. Sprinkle the crumbled Gorgonzola over the beef. Finish with the remaining slice of bread and serve.