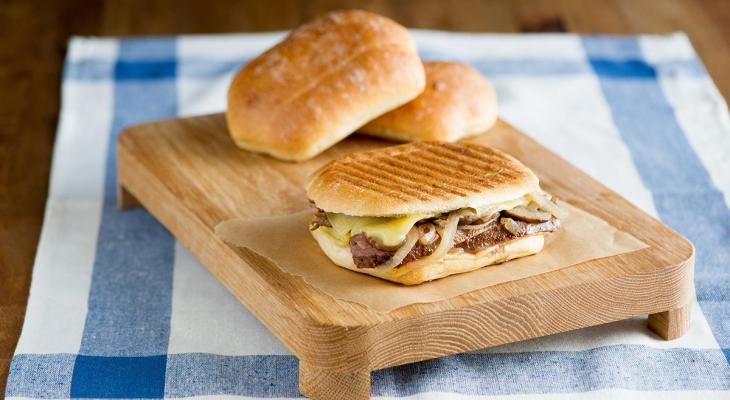 Juicy steak and Spicy horseradish are wonderful on top of our Telera roll.
Ingredients
1 lb. Flank Steak
8 Tbsp. Butter
4 slices Aged Cheddar Cheese
4 Tbsp. Horseradish Cream
2 Medium Yellow Onions, sliced
2 Tbsp. Olive Oil
1 Cups Sliced Mushrooms
Preparation
For the Horseradish Cream: 1/2 cup sour cream 2 Tbsp freshly grated horseradish 1/2 Tbsp Dijon mustard 1/2 tsp of white wine vinegar Salt and pepper Heat the olive oil in a large skillet over medium heat. Add the onions and cook until softened, about 2 minutes. Add the mushrooms and cook another 10 to 15 minutes, or until the vegetables are fully cooked and the onions are golden brown.
Liberally season the steak with salt and pepper. Using the same pan you did for the onions and mushrooms, add the steak and another 1/2 tablespoon of olive oil. Cook the steak until browned on both sides and rare in the middle, about 3 minutes on each side.
Let sit for about 5 minutes and then slice into strips. Brush remaining olive oil on both sides of the Telera rolls. Layer the steak, onions, mushrooms and cheese on one piece of bread. Slather the 1 tablespoon of horseradish cream on the other half of the roll and press down.
Grill each sandwich on a Panini press for about 2 to 4 minutes, or until the cheese is melted and oozing out.