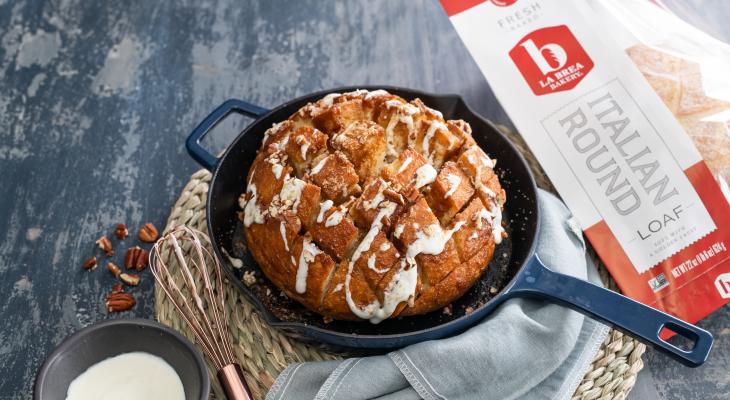 Ingredients
1 La Brea Bakery Italian Round Loaf
2 oz. cream cheese, softened
⅓ cup powdered sugar
½ cup milk
1 stick butter
½ cup brown sugar
½ cup chopped pecans
Preparation
1.  Preheat oven to 350 degrees F. 
2. Score Italian Round Loaf into a 1-inch squares about 2 inches deep (see the picture for a visual).
3.  Melt butter and brown sugar in a pan. Stir frequently and keep an eye on it to be sure it does not burn.
4. Brush butter mixture all over the bread.  
5. Bake in oven for 25 minutes or until bread starts to pull apart and turn brown.
6. While the bread is baking, make the icing by mixing together the cream cheese, powdered sugar and milk with an electric mixer.  
7. Remove bread from oven. Top with additional brown sugar.  Drizzle icing across the pull-apart bread and top with chopped pecans.
8. Dig in!