Our carriers are made with operators in mind 
Artisan baking is the dedication to a standard made up of ingredients, processes and techniques that result in bread with a crispy, crunchy crust and soft interior. It takes up to 24 hours to make a loaf of La Brea Bakery bread using the highest quality and time-honored traditions. We offer true artisan bread that provide an elevated eating experience. You can use our breads across the menu and dayparts to reduce waste, maximize profits and satisfy customers. Helps reduce SKU complexity and storage.

THAW & SELL   •    4 DAY AMBIENT SHELF LIFE   •   VERSATILE FORMATS  •    MINIMAL LABOR






KEY STATS
33%
of consumers strongly agree they are seeking out higher-quality menu options
23%
of operators are using more versatile ingredients and 30% are looking to simplify their menus.
24%
of operators are increasing use of value-added products.
1/3
of food goes to waste - operators are looking for ways to use products across their menu to minimize waste.
Recipe Inspiration
Three days, three ways
Want to know more about our carriers and artisan solutions?
Contact us at 1-844-99Aspire or email us.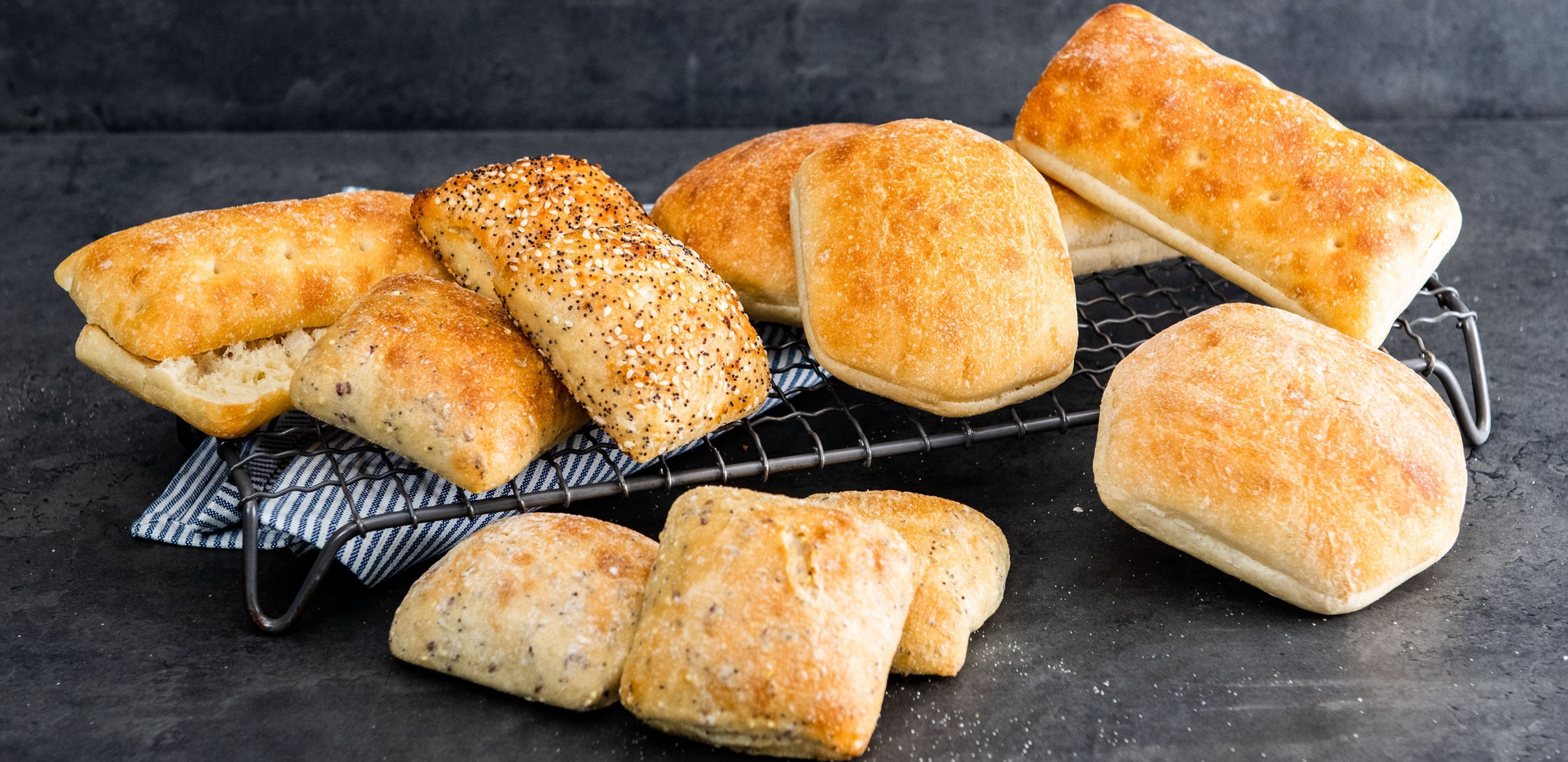 | PRODUCT NAME | SKU # | CASE COUNT | WEIGHT | LENGTH | WIDTH | HEIGHT |
| --- | --- | --- | --- | --- | --- | --- |
| Brioche Bun | 21925 | 90 | 2.5 oz | 4.5" | 4.5" | 2" |
| Telera Slider | 18552 | 128 | 1 oz | 3.25" | 3" | 1.5" |
| Telera | 17064 | 96 | 3 oz | 5" | 4" | 1.5" |
| La Baccia (Square) | 02297 | 48 | 2.7 oz | 4" | 4" | 1.88" |
| La Baccia (Rectangle) | 02128 | 40 | 3.2 oz | 6" | 3" | 1.88" |
| La Baccia Rectangle | 26128 | 72 | 3.2 oz | 6" | 3" | 1.88" |
| Sourdough Demi | 52160 | 48 | 4 oz | 7.5" | 2.5" | 1.75" |
| French Demi | 02125 | 48 | 4 oz | 7.5" | 2.5" | 1.75" |
| French Demi | 26125 | 72 | 4 oz | 7.5" | 2.5" | 1.75" |
| 1/4 Sheet focaccia | 02240 | 10 | 17 oz | 15.5" | 6" | ?? |
| Ciabatta (small) | 02267 | 60 | 3 oz | 4" | 4" | 2" |
| Ciabatta Square | 18788 | 48 | 4.5 oz | 4.5" | 4.5" | 2" |
| Ciabatta Rectangular | 17077 | 96 | 3 oz | 6" | 3" | 1.5" |
| Multigrain Sliced Sandwich Bread | 52901 | 8 | 24 oz | 8" | ?? | ?? |