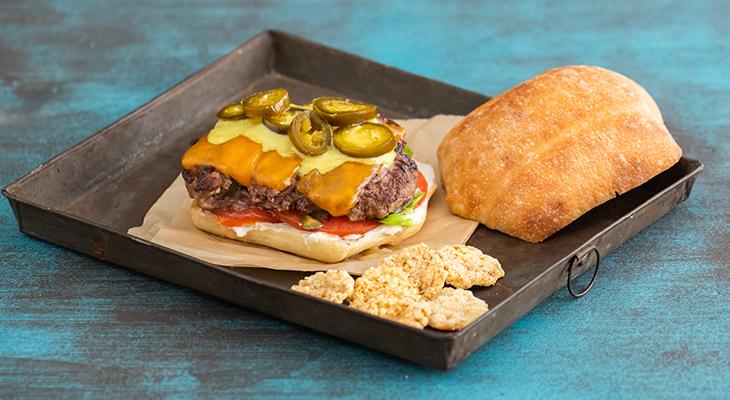 Ingredients
1 Take & Bake Telera Roll

5oz Ground Beef

3oz grated Cheddar cheese

1 Tsp chopped pickled Jalapenos (favorite store bought)

5 whole pickled Jalapenos

2 slices Tomato

2 Lettuce leaves

1 Tsp Mayonnaise

1 Tsp neutral oil like Grapeseed

1 Tsp Jalapeno sauce

Salt and pepper
Preparation
1. Put ground beef in a bowl, add chopped Jalapenos and ⅓ of the grated cheese.  Mix thoroughly and form into a hamburger patty. Add salt and pepper to both sides.
2. To make the jalapeños sauce, pulse jalapeños, garlic, lime juice, and salt in a blender or food processor until puréed. With motor running, slowly drizzle in oil until a thick sauce forms. Add cilantro if using and pulse a few times until chopped and incorporated. Taste and add more jalapeño, if necessary.
3. Set a heavy bottom pan on the stove on high heat. Add a oil and swirl to evenly coat the pan. When the pan is hot and oil is shimmering but no smoking, place the hamburger patty in the pan and press down on it hard with a spactuala. Let the burger cooked undisturbed for 3 minutes, flip and press down again and let cook for another 3 minutes. Turn off the heat, put cheese on top and cover with foil.