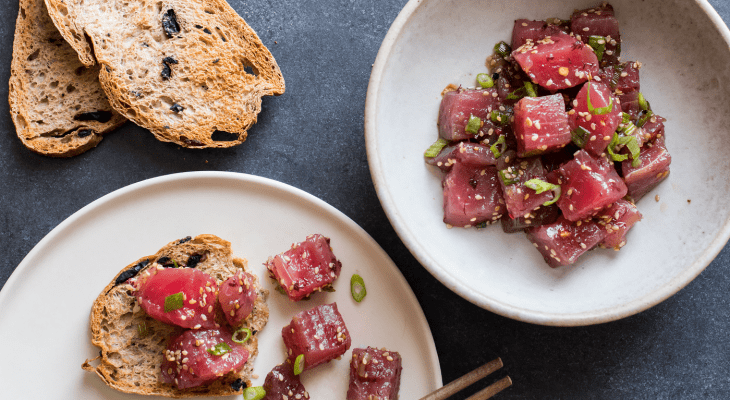 You'll love our take on this traditional Hawaiian recipe served atop crispy Olive Loaf slices.
Ingredients
2 lbs. Fresh Tuna Steaks, cubed
1 cup Soy Sauce
¾ cup Scallions, Chopped
2 Tbsp. Sesame Oil
1 Tbsp. Toasted Sesame Seeds
1 Tbsp. Crushed Red Pepper (Optional)
Preparation
Preheat oven to 350 degrees F.
Chill bread in freezer for 30 minutes to make it easier for slicing. Remove and slice into ¼ inch slices using a serrated knife.
While the bread is chilling, prepare the poke. In a medium size non-reactive bowl, combine Ahi, soy sauce, scallions, sesame oil, sesame seeds, and chili pepper; mix well. Refrigerate at least 2 hours before serving.
Bake bread slices in the oven for 5-8 minutes or until crisp.
Plate poke in a bowl and garnish with scallions. Scoop poke on each olive crisp and serve.