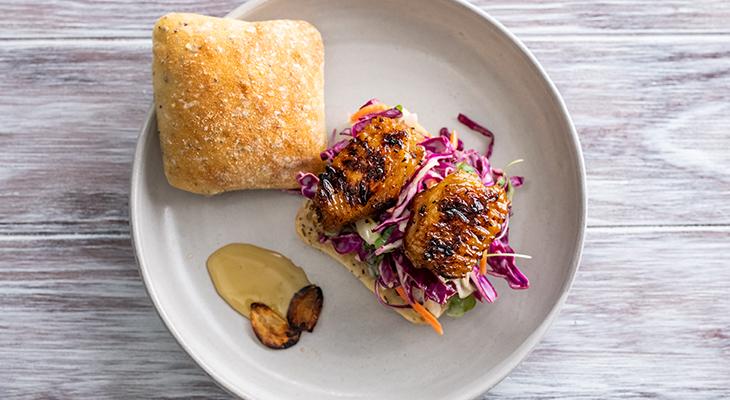 Ingredients
1 Take & Bake Seeded Sourdough Roll 

2 Chicken wings fully cooked

½ Cup mixed Cabbage

1 Tsp Sugar

3 Fresh Mint, chopped

1 Tsp Apple Cider Vinegar

2 Tsp Honey

1 Tsp Water

1 Garlic Cloves, sliced thin

1 Tsp Olive Oil

2 Tbsp Ranch Dressing

Salt and Pepper
Preparation
1. Set oven to Bake and preheat to 350 degrees.
2. Slice the roll in half lengthwise and place on a baking sheet with the cut side up. Put in the oven and toast until just starting to get golden brown.  Remove and let cool.
3. For the slaw, put the Cabbage in a bowl and add vinegar, sugar and mint.  Let sit for 10min until flavors come together.
4. Take the cooked wings and pull the bones out by twisting either end in opposite directions until they separate and then pull each out of the meat. You can also make a cut lengthwise along the wing and pull out each bone.
5. Add the sliced garlic to a pan over low heat with olive oil and cook of medium heat until golden brown. Add the water and honey and mix together until combined and the consistency of a light glaze and can coat a spoon. Add the wings and coat evenly with honey-garlic glaze. Remove and set aside.
6. To make the sandwich, place the roll cut side up on a flat surface and add half the ranch dressing.  Add the Cabbage slaw to the bottom piece of bread, then add the chicken wings.  Spoon any remaining honey glaze over the wings.  Top with remaining ranch and the top piece of bread,  Serve.