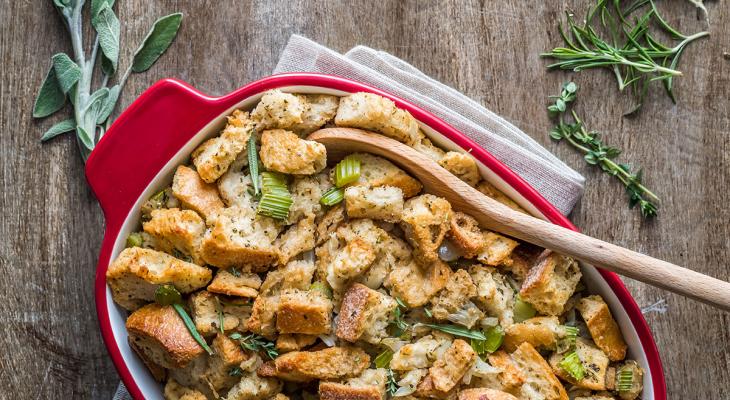 This classic La Brea Bakery Stuffing recipe is sure to become a favorite in your household during the Holidays.
Ingredients
2 Tbsp. Unsalted Butter
1 Large Shallot, Peeled, Diced
1 Medium Yellow Onion, peeled, diced 1/4
4 Medium Stalks Celery, diced 1/4
1 Medium Leek, cleaned, diced 1/4
2/3 cup Italian Flat-leaf Parsley leaves, finely minced
1/4 cup Fresh Sage Leaves, finely minced
3 Tbsp. Fresh Rosemary (sticks discarded), finely minced
2 Tbsp. Fresh Thyme (sticks discarded), finely minced
2 Tbsp. Extra Virgin Olive Oil
3 cups Chicken Stock
1 tsp. Fine Salt
½ tsp. Ground Black Pepper
Preparation
Preheat oven to 375°F.
Cut the loaf into 3/4" cubes and spread evenly on a baking sheet.
Toast in oven 10-15 minutes until dry and crunchy (may take longer, depending on oven).
Place the toasted diced bread in a large mixing bowl and mix in the minced parsley, sage, rosemary, and thyme. 
In a large sauce pan, warm the olive oil and add the diced shallot, onion, celery, leek, salt and pepper and sauté for about 5 minutes or until all ingredients are slightly tender.
Add the chicken stock to the vegetables and bring to a boil.
Slowly pour contents of the sauté pan over the stuffing in bowl.
Mix everything together making sure the croutons are evenly coated.
Allow to rest for 5 minutes and mix again.
Butter the inside of a large baking dish.
Spoon the mixture in the buttered baking dish and spread evenly to form a flat top.
Bake for 30 minutes or until golden brown on top.