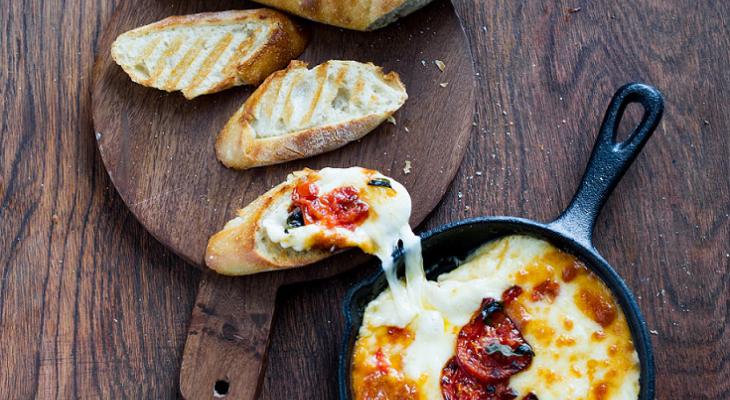 Impress your guests with this delicious Mediterranean dish.
Ingredients
4 ½ inch Thick Rounds Provolone Cheese
1 Medium Tomato cored and cut into small cubes
2 Small Garlic Cloves (1 minced, 1 cut in half)
2 Tbsp. Extra Virgin Olive Oil
1 Tbsp. Chopped Fresh Marjoram or Oregano
¼ Tbsp. Kosher salt
Freshly ground black pepper
¼ oz. Balsamic Vinegar
Preparation
Position oven rack in the center of the oven and pre-heat oven to 450°F.
Arrange four 5" to 6" individual shallow gratin dishes on a rimmed baking sheet. Put 1 round of provolone in each dish.
In a small bowl, combine the tomato, garlic, 1 Tbsp. olive oil, marjoram, ¼ tsp. salt, and a few grinds of pepper.
Divide the tomato mixture among the four gratin dishes, scattering it over and around the cheese. Bake until the cheese is slightly melted, about 5 minutes.
Rub Baguette pieces with garlic and drizzle with olive oil. Grill or toast until crusty and golden brown
Drizzle each serving with ¼ tsp. of the balsamic vinegar and serve immediately.