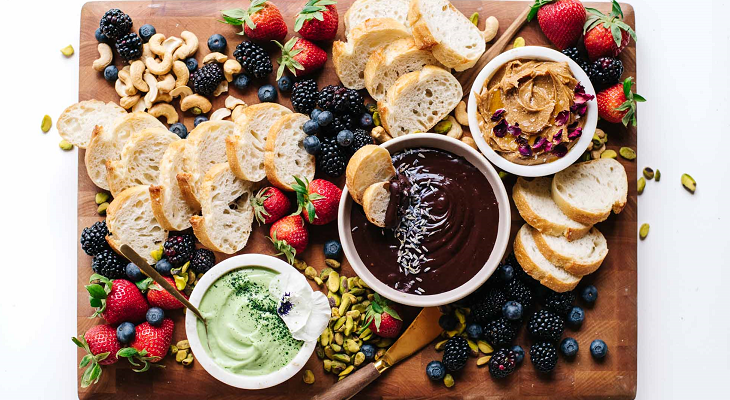 This dessert bread board pairs our Reserve demi-baguette with a trio of floral, spring-inspired dips: dark chocolate lavender, creamy matcha jasmine mascarpone, and salty honey rose cashew. Add your favorite nuts and fruit and start dipping.
Recipe and images by: Kale & Caramel
Ingredients
Dark Chocolate Lavender Dip
2/3 cup semi-sweet chocolate, chopped
1/3 cup crème fraîche
2 tablespoons brown rice syrup
1-1 1/2 teaspoons pure lavender extract
Dried edible lavender buds, for garnish
Matcha Jasmine Mascarpone Dip
1 teaspoon loose-leaf jasmine green tea, or 1 jasmine tea bag
1/4 cup boiling water
1 1/2 teaspoons brewed jasmine tea concentrate (from above)
1/2 teaspoon matcha tea powder plus more for garnish
1/2 cup mascarpone
3 teaspoons honey
Salt Honey Rose Cashew Dip
1/2 cup roasted, salted cashew butter
1 tablespoon honey plus more for garnish
1-1 1/2 teaspoons rosewater
1/4 teaspoon flaky sea salt, or to taste depending on saltiness of nut butter plus more for garnish
Dried edible rose petals, for garnish
Dessert Bread Board
Fresh fruit to dip: berries, apples, pears, oranges
Nuts of choice, here I used pistachios and cashews
Preparation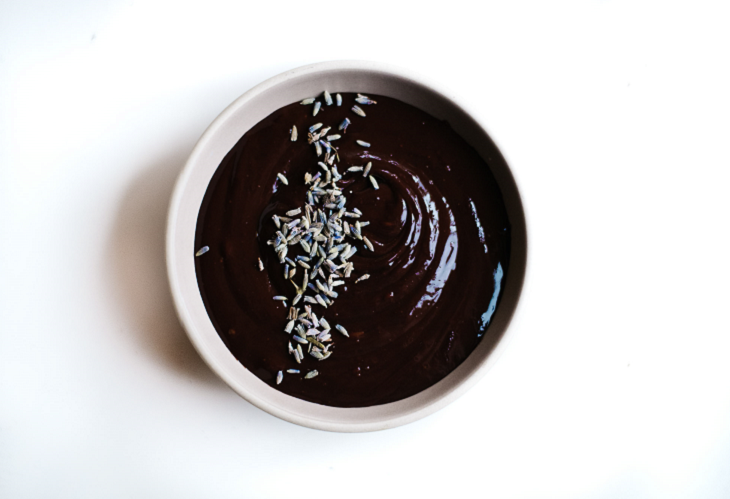 Make The Dark Chocolate Lavender Dip
In a small, heavy-bottomed saucepan over low heat, melt the chocolate, crème fraîche, and brown rice syrup, stirring to integrate. When just a few pieces of chocolate remain, remove from heat and begin to whisk. Continue to whisk as you add the lavender extract, until the dip is completely smooth and takes on a slightly bouncy quality—it will remain pliant even when it cools. Transfer to a small serving bowl, and bring to room temperature. Garnish with dried lavender buds.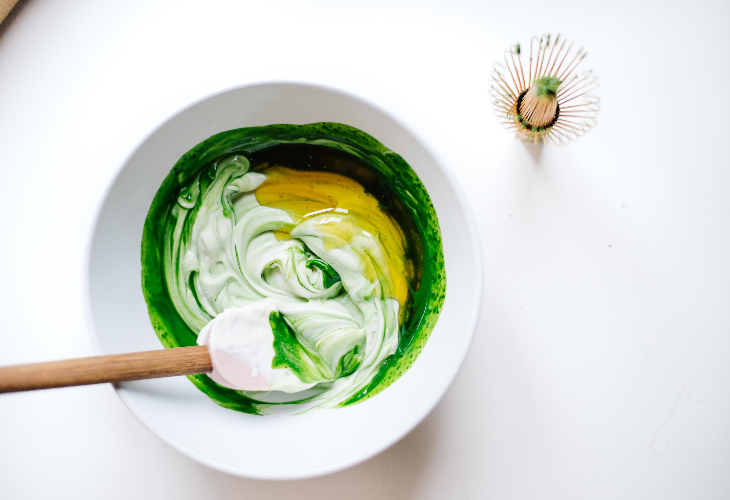 Make The Matcha Jasmine Mascarpone Dip
Brew the jasmine tea in 1/4 cup boiling water, and let steep 5-10 minutes. Discard the tea leaves. In a cup or small bowl, whisk together 1 1/2 teaspoons of this jasmine tea concentrate with 1/2 teaspoon matcha powder until no clumps remain. In a separate bowl, mix together the mascarpone and honey. Add the jasmine matcha concentrate and blend until the mixture is uniform in color. Transfer to a serving bowl and garnish with a sprinkle of matcha powder.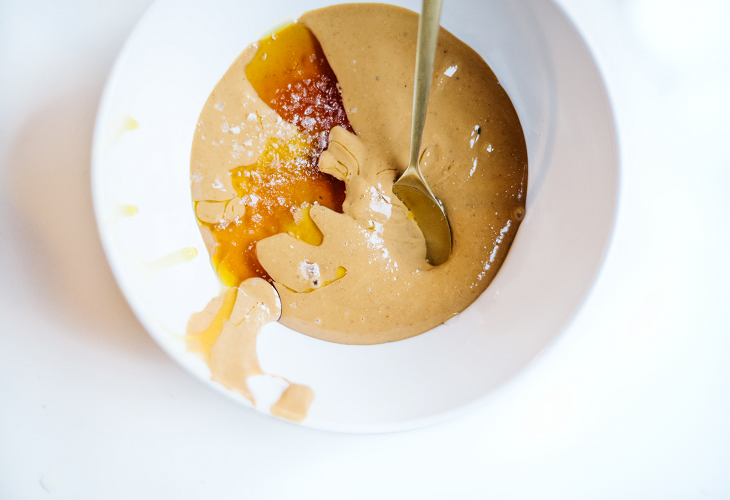 Make The Salty Honey Rose Cashew Dip
In a small bowl, mix cashew butter, honey, rosewater, and sea salt until smooth. Transfer to serving bowl, and garnish with dried edible rose petals, flaky sea salt, and honey.
Make The Dessert Bread Board
Choose a large surface to hold all your dips, breads, and accoutrements. Choose where your dips will go on the surface, and place them there to build the board around.
Slice your baguette of choice into 1/4-1/2" slices—or your favorite size and shape for dipping. Fan out your bread slices around the dip bowls, leaving room for fruit and and nuts.
Fill in the gaps with fruit, nuts, and more bread as desired.