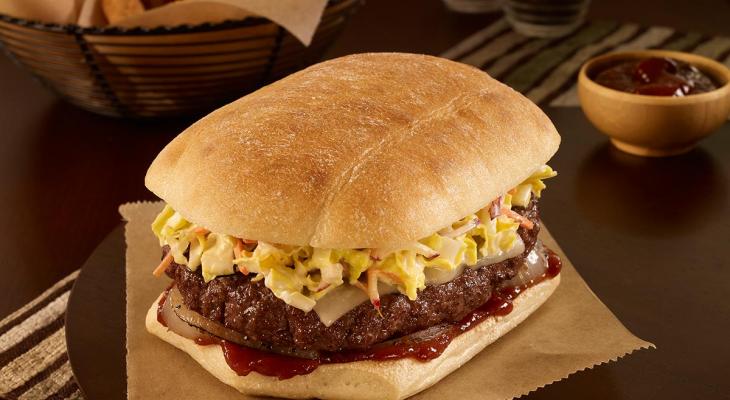 Smoky and sweet flavors in this delicious burger fit perfectly on our popular Telera roll.
Ingredients
1 cup Ketchup
3 oz. Canned Chipotle Peppers
2 Tbsp. Worcestershire Sauce
2 Tbsp. Honey
2 x Large Yellow Onions
1 x Olive Oil
1 x Kosher or Sea Salt
1 x Freshly ground black pepper
1/3 Cups Mayo
1/3 cups Sour Cream
½ tsp. Lawry's Seasoned Salt
½ tsp. Garlic salt
2 Tbsp. Lime Juice
3 Cups Shredded Napa Cabbage
¼ cup Shredded Carrot
3 Red Radishes, Shredded
2 ½ lbs. Ground Beef
6 oz. Sliced Monterrey Jack cheese
Preparation
Lightly oil and preheat grill. Combine ketchup, chipotle peppers, honey and Worcestershire in a blender or food processor, process until smooth. Cover and keep cold.
Slice the onions to make 6 ½-inch thick slices, brush with olive oil and season with salt and pepper. Grill onions about 8 to 10 minutes or until tender, turning once. Set aside and keep warm.
Combine mayonnaise, sour cream, lime juice, seasoned salt and garlic salt in a large bowl. Add cabbage, carrots and radishes and mix well. Cover and keep cold.
Being careful not to overwork the meat, shape it into 6 oval patties. Sprinkle both sides of each patty with about ¼ teaspoon kosher salt and freshly ground black pepper. Place the patties on the hot grill. Sear them until they can be turned without sticking, then turn. For rare, cook about 4 minutes on each side; for medium-rare, 5 minutes on each side; for medium, 6 minutes on each side.
Just before burgers are done cooking, top each with 2 slices of cheese and let melt. While burgers are grilling, place rolls, cut side down, on grill to toast lightly, about 2 minutes.
Spread chipotle ketchup on each bottom bun. Top with warm grilled onion slices and burgers. Divide the slaw between the burgers and place on top of the cheese. Finish with roll tops and serve.