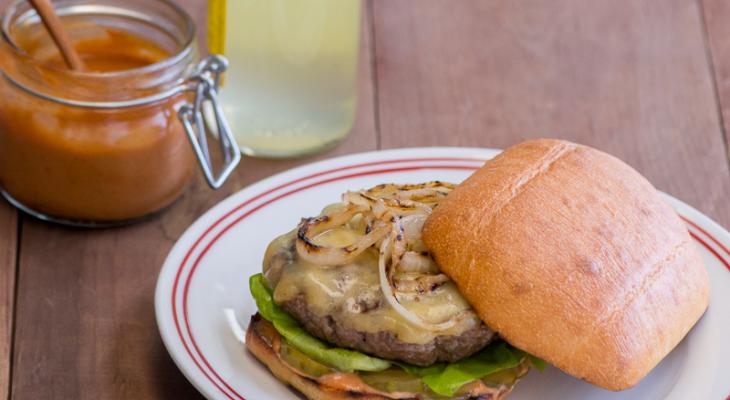 Ingredients
For the burger:
2 lbs Ground Sirloin 
1 large Vidalia Onion 
1 ½ cup Ketchup
1 cup Mayonnaise
1 tbsp Roasted Garlic
2 tbsp Dijon mustard
1 tbsp Olive Oil
8 thick slices Aged Cheddar
4 pieces of Butter Lettuce
8 sliced pickles
Salt & Pepper
Spiked Ketchup Preparation:
1 cup Mayo
2 tablespoons Dijon mustard
1 tablespoons Roasted garlic
1 ½ cup Ketchup
5 oz Vodka
Combine mayonnaise, mustard and garlic. Add ketchup and vodka.
Preparation
Cut four ½" thick slices of onion and season with salt and pepper and place grill for 2 minutes per side over medium heat or until caramelized but still firm
Divide the meat evenly to form four patties roughly the diameter of the Telera rolls and brush Olive Oil on each side and season with salt and pepper.
Grill to desired doneness (approximately four minutes per side for medium rare (depending on grill).  In the last two minutes of cooking, divide the cheese amongst the four burgers and close the grill to allow the cheese to melt slightly.
Split the rolls to form tops and bottoms and lightly grill the cut surfaces. 
Place rolls on serving dishes, spread spiked ketchup on each side. 
Add the remaining slice of Cheddar and 2 pickles to the each bottom roll 
Place a burger on each roll bottom and top with the butter lettuce and grilled onion.
Place top on and serve.