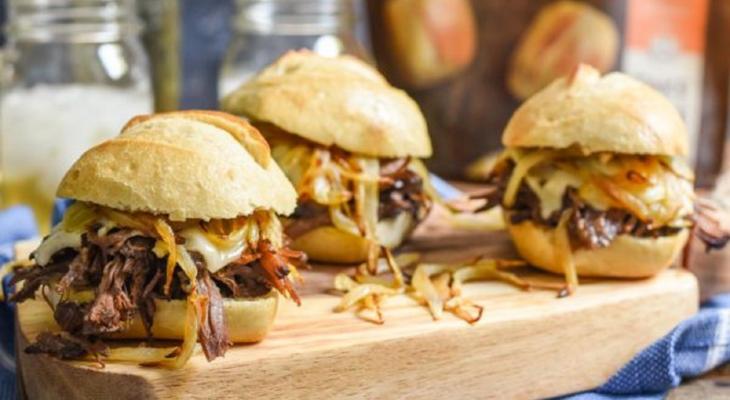 Piled high with beef, caramelized onions, and melty Swiss cheese, this recipe puts those pot roast left overs to tasty use.
Ingredients
2 tsp. Olive Oil
1 Medium Yellow Onions, sliced
1 ½ cup Leftover Pot Roast, Warmed
4 Slices Swiss Cheese
¼ cup Mayonnaise
1 tsp. Whole Grain Mustard
1 tsp. Prepared Horseradish
Preparation
Preheat the oven to 385 degrees. Place the rolls on a baking sheet and bake for minutes. Remove from the oven.
In the meantime, heat the oil in a non-stick skillet over medium low heat. Add the onion slices and toss to coat with the oil. Cook for 20-30 minutes, stirring occasionally, until the onions are soft and golden brown.
Slice the rolls in half. Pile each one with the pot roast, caramelized onions, and Swiss cheese.
In a bowl, whisk together the mayonnaise, horseradish, and mustard. Slather about a Tablespoon of sauce on each sandwich.
Wrap the sandwiches in foil (or just cover the baking sheet tightly with foil) and return to the oven for 5-10 minutes, or until cheese is melted and sandwiches are hot. Serve immediately.
Recipe by Neighbor Food