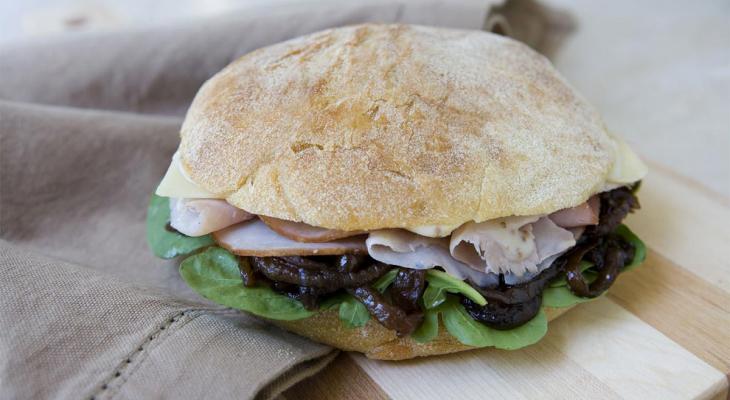 Our Ciabatta Loaf is the perfect marriage for this upscale ham and cheese sandwich.
Ingredients
1 x Large Red Onion
3 Tbsp. Extra Virgin Olive Oil
5 tsp. Balsamic Vinegar
¼ Tbsp. Kosher salt
Freshly ground black pepper
¼ cup Dijon Mustard
½ Cups Mayo
14 slices Black Forest Ham
8 slices Gruyere Cheese
1 cup Arugula
Preparation
Slice onion very thinly. Place in medium bowl. Pour olive oil and balsamic vinegar over onions, sprinkle with salt and pepper. Toss to coat. Let marinate for at least ½ hour, up to one day.
Preheat oven to 350 degrees. Spread onions on a baking sheet in a thin layer. Pour remaining liquid over the onions. Bake 10 minutes. Let cool.
Mix mustard and mayonnaise together. Set aside.
Slice roll in half, spread 2 tbsp Dijonnaise on each side. Layer ham, cheese, arugula and 3 tbsp. of onions on bottom half of bread and cover with top half.