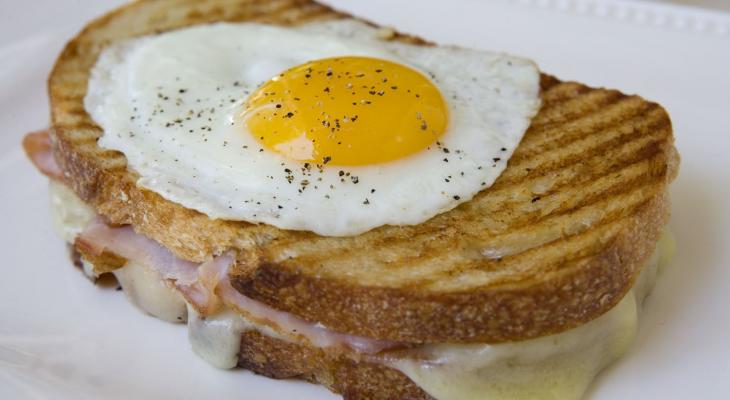 A classic sandwich on our beautiful Rosemary Olive Oil Loaf.
Ingredients
8 oz. Gruyere cheese, sliced into 24-32 1/16 inch-thick slices
12 oz. Smoked Ham, such as Black Forest, sliced into 12-16 1/16 inch-thick slices
4 Extra-Large Eggs
3 Tbsp. Unsalted Butter
Fleur de sel or kosher salt, to taste
Freshly Cracked Black Pepper, to taste
Preparation
To Assemble the Sandwiches:
Set half of the slices of bread buttered side down, and cover them with the cheese slices, folding them back in toward the middle if they extend past the edges of the bread.
Place 3 or 4 slices of the ham in an even layer over the cheese, and place the top slice of bread over the ham, buttered side up.
In a moderately hot skillet, grill the sandwich on both sides until the bread is golden brown and the cheese has melted.
To Fry the Eggs:
Crack two eggs into two separate bowls to check that the yolks aren't broken.
In 2 6-inch non- stick skillets, melt half of the butter over medium-high heat, until it starts to bubble. Pour 1 egg into each pan, being careful not to break the yolks.
Add a teaspoon of water to each pan, sprinkle the eggs with fleur de sel, and cover the pans with lids. Cook the eggs for about 3 minutes for a soft-cooked egg and 5-6 minutes if you like your eggs firm.
Wipe out the skillets, and fry the other 2 eggs in the remaining butter in the same manner. Center a fried egg over each of the grilled sandwiches and sprinkle with pepper.