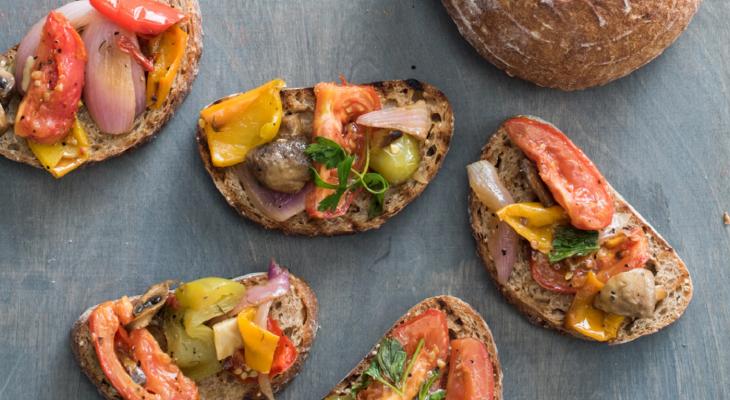 This recipe is loaded with veggies and even more flavor.
Ingredients
2 Tomatoes Quartered
1 Red Onion Sliced Into Small Wedges
3 Bell Peppers (Red, Yellow, Green) Cut Into 1" Pieces
1 Clove Garlic Sliced In Half
3 Sprigs Parsley
Salt and Pepper to taste
4 Tbsp. Olive Oil
Nine Grain Petite
Preparation
Set oven to Bake and preheat to 400 degrees.
Brush bread slices with olive oil and grill lightly on a grill pan or BBQ. Remove and rub each pieces with garlic.
Put all the vegetables in a bowl and coat with 2 Tbsp. olive oil, season with salt and pepper and toss. Transfer vegetables into an oven safe baking dish and roast for 30 minutes or until soft.
To assemble, place the bread slices on a flat surface and spoon a mixture of all the roasted vegetables evenly over each piece of bread. Garnish with parsley, salt and pepper and serve.