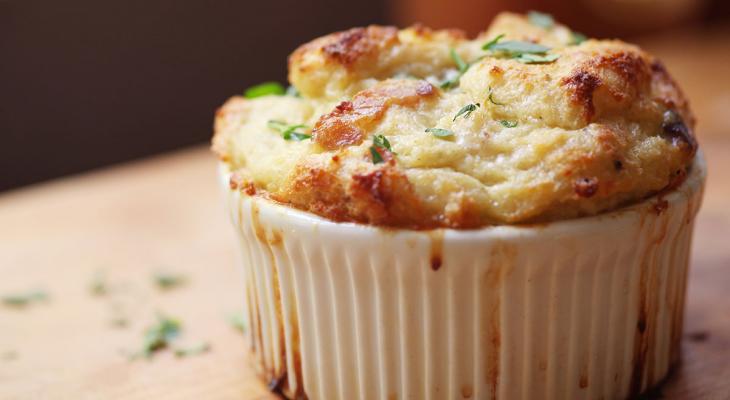 Savory bread pudding has never been better with this mouth-watering recipe.
Ingredients
3 Cups Low Sodium Chicken Stock
1 cup Heavy Cream
8 oz. Applewood Smoked Bacon
4 oz. Whole Cooked Chestnuts
4 Eggs
1 bunch Italian Parsley
1 tsp. Celery Salt
1 tsp. Freshly Ground Black Pepper
Preparation
Preheat oven to 350 degrees.
Cut the bread into 1" cubes, removing crust, and place in a large bowl. Pour the chicken stock over the bread and stir to wet all the bread. Allow to sit for a half hour, stirring occasionally to be sure all the liquid is absorbed.
Coarsely chop the chestnuts. While waiting for the bread to soak, put a medium pan over medium heat and add the bacon and chestnuts. Stir occasionally and continue cooking, stirring occasionally until the bacon is golden but not yet crispy.
Remove from heat and set aside. Pick only the leaves of the parsley, chop coarsely and set aside. In a separate bowl, beat the eggs thoroughly with a fork or whisk and add the cream, celery salt, pepper, and chopped parsley, continuing to whisk until combined. Add this mixture and the chestnuts-bacon mixture (use a rubber spatula to get everything from the pan) to the bread and stir to mix well.
Spray the inside of a 9" baking pan with cooking spray and fill with the bread mixture, making sure to spread evenly to fill the pan and create a level top surface. Cover pan with aluminum foil and bake on middle rack for 40 minutes. Remove foil and bake an additional 15 minutes. Remove from oven.
This can be served immediately or allowed to cool completely for serving later. If serving later, cover with foil and place in a 350-degree oven for 20 minutes or until warmed through. This recipe makes nine 3" by 3" pieces. Serve as an accompaniment to roasted meats.