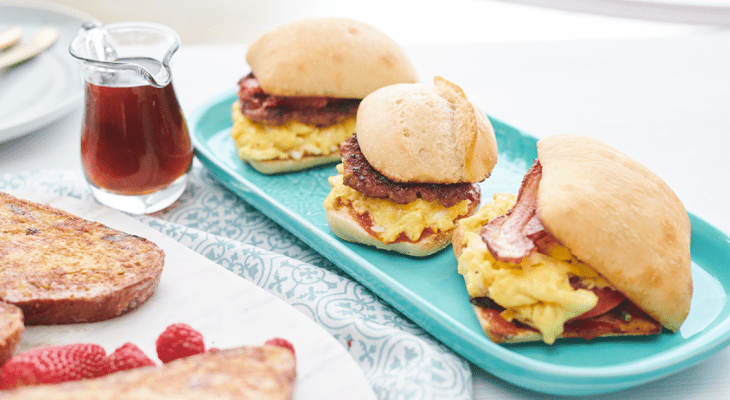 Ingredients
1 La Brea Bakery Take & Bake Ciabatta Roll or Take & Bake Dinner Roll
1 egg 
2 pieces of bacon or a sausage patty, fully cooked 
¼ cup salad greens
1 slice cheddar cheese
½ Tbsp butter
1 Tbsp milk
1 tsp red pepper spread
Salt and pepper, to taste
Preparation
Brush the inside of the roll with oil and toast in a pan over medium heat until the edges are golden.
Put a skillet on medium heat and melt the butter. Beat the egg in a bowl and add a Tbsp of milk.
Add egg to the pan and cook, stirring often until cooked through but still soft. Season with salt and pepper and remove from heat.  
To build, spoon red pepper spread on the bottom roll. Add greens, cheese and then the scrambled egg. Top with bacon or sausage. Place the top half of the roll on the sandwich and serve warm.