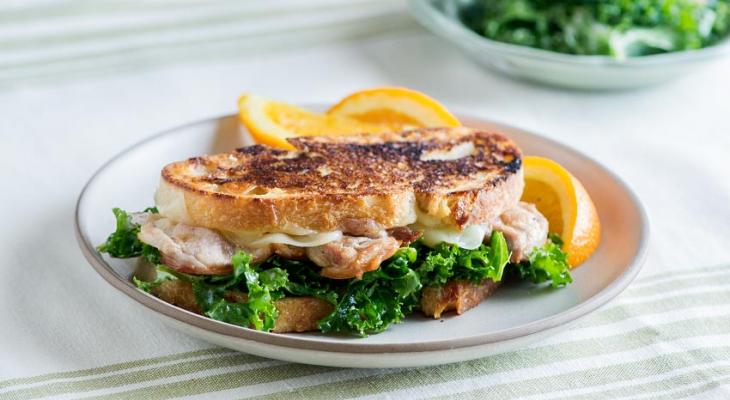 This sandwich has fresh flavors that always deliver!
Ingredients
1 Tablespoons Softened Butter
4 x Provolone Cheese Slices
6 oz Warm Grilled Chicken
1 cups Fresh Kale or Spinach, Chopped
4 Tablespoons Creamy Style Caesar Dressing
Preparation
Place a medium size non-stick frying pan over medium low heat and preheat the pan for 2 minutes while you assemble the sandwich.
Butter each slice of bread on one side and lay the bread out on your cutting board butter side down.
Place two slices of provolone on each piece of bread and top with the remaining bread slices.
Carefully transfer the sandwiches to the preheated pan and cook over medium low heat for 3 minutes per side or until bread is golden brown and cheese has melted.
While the sandwiches are cooking toss the kale, warm chicken and Caesar dressing in a small bowl.
Remove the sandwiches from the pan, open them and stuff each one with half of the kale salad.
Cut the sandwiches in half and serve immediately.