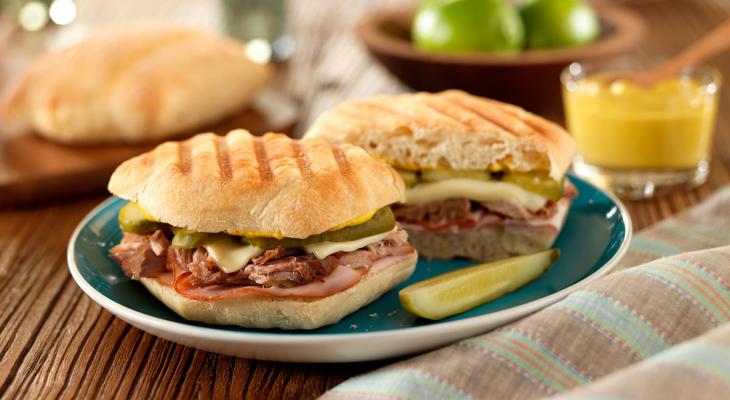 Cuban sandwich on our popular Telera roll? Absolutely!
Ingredients
1 ½ Tbsp. Yellow Mustard
2 oz. Sliced Ham
4 oz. Roasted Pulled Pork
2 slices Swiss cheese
1 Medium Size Dill Pickle (sliced lengthwise into 4 slices )
Preparation
Assembly- Slice the Telera bread in half. Spread ¾ of a tablespoon of the yellow mustard on each side of the interior of the bread. Then layer the sliced ham evenly over the mustard on the bottom part of the bread. Then place the roasted pulled pork on top of the sliced ham. Then layer the slices of cheese evenly over the pulled pork. Then layer the pickle slices over the cheese. Place top part of bread onto the sandwich and lightly press down to compress filling.
Lightly butter each side of the sandwich and place in a heated sandwich press. Grill until desired color and doneness.