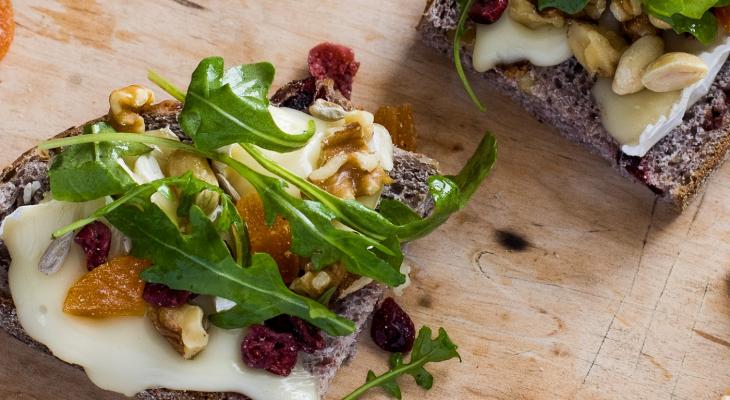 This recipe is the best of both worlds. The comfort of a grilled cheese with the assorted flavors of your favorite cheeseboard.
Ingredients
8 oz. Brie Cheese
3 Tbsp. Extra Virgin Olive Oil
2 Tbsp. Champagne Vinegar
1 tsp. Salt
1 tsp. Freshly Ground Pepper
2 cup Arugula
1 Tbsp. Honey
1 cup Trail Mix (Favorite Store-Bought)
Preparation
Preheat oven to 400°F.
In a non-reactive bowl whisk together olive oil, vinegar, salt and pepper. Add arugula and lightly dress (remove extra dressing if needed).
Place 4 slices of bread on baking sheet. Evenly distribute Brie on top of each of the 4 slices of bread.
Place in the oven for 3 minutes or until Brie is just starting to melt. Remove.
To Assemble: Drizzle honey on top of cheese and add trail mix. Top with arugula salad and close with remaining piece of bread. Slice in 2 pieces and serve.