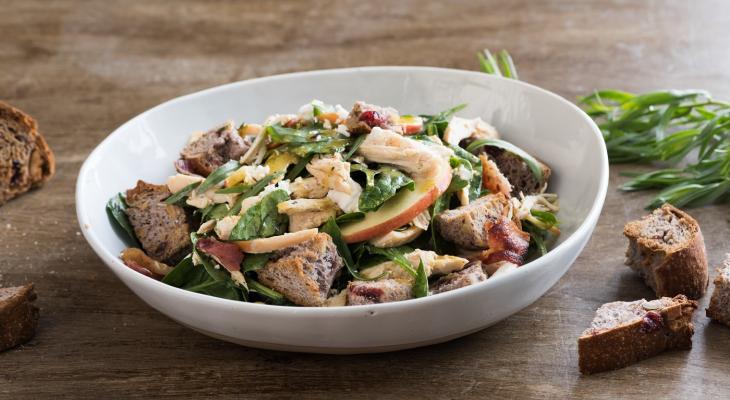 A delicious spinach salad dressed with our favorite bacon vinaigrette recipe.
Ingredients
10 oz. Fresh Baby Spinach
4 oz. Goat Cheese Softened
2 cups Pulled Chicken
1 ea. Apple Cut into Thin Slices
¼ cup Extra Virgin Olive Oil
¼ cup cider Vinegar Plus 0.50 Teaspoon
2 Tbsp. Crumbled Bacon
1 Tbsp. Bacon Drippings Reserved from Cooking
1 Tbsp. Dark Brown Sugar
1 Tbsp. Mustard
1 tsp. Salt
1 tsp. Freshly Ground Pepper
1 Tbsp. Fresh Tarragon, Chopped
Preparation
Preheat oven to 400°F.
Place cubed bread on a baking sheet and bake in the oven for approximately 10 minutes or until crispy on the outside but still chewy on the inside. Remove and set aside.
In a small bowl combine olive oil, vinegar, cooked bacon and drippings, brown sugar, mustard, salt, and pepper. Whisk until emulsion is formed and set aside.
In large bowl, combine chicken, spinach, apples, goat cheese, croutons, and tarragon.
Warm vinaigrette slightly on stove-top or microwave. Whisk and slowly spoon over salad to dress.
Divide into 4 portions and serve in shallow bowls.