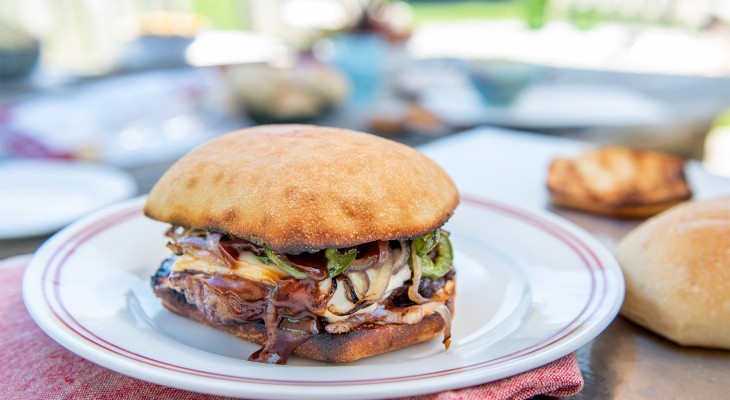 Ingredients
1⁄2 lb. Ground Beef
1⁄2 cup red onion
1⁄4 cup sliced jalapeno peppers
2 Tbsp BBQ sauce (favorite recipe or store bought)
1 slice of Pepper-Jack cheese
1 tsp salt and pepper
Oil spray
Preparation
Preheat grill to high heat and place a flat griddle or cast iron pan on one side of the grill to preheat.
Spray the griddle or pan with oil and cook the onions and jalapeno until soft and slightly charred.
While they cook, spray the grill with oil and place the burger to cook. After 4 minutes, flip and cook for another minutes. Add the cheese and let cook for 2 minutes more until burger is medium.
While cooking, spray the roll with oil and grill until just starting to get golden brown on edges. Remove.
To build, spread 1 Tbsp of BBQ sauce on the bottom roll and place the cooked cheeseburger on top. Add the grilled onion and jalapeno mixture, add the final Tbsp of BBQ sauce and the top with remaining roll. Serve warm.