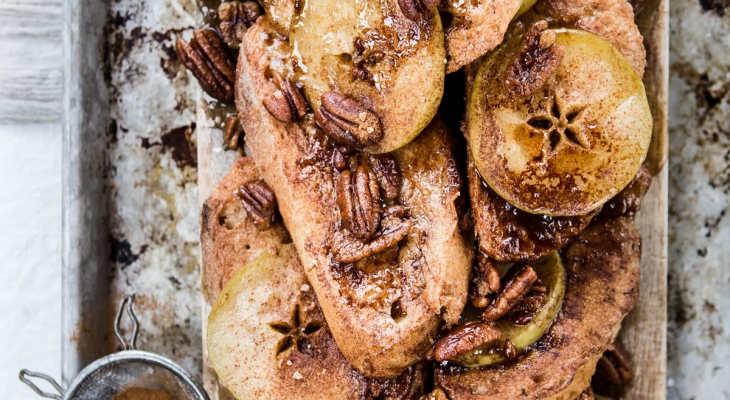 Ingredients
2 loaves of La Brea Bakery French Bread
4 eggs
1 13.5 oz can full fat coconut milk
1 vanilla bean, scraped or 1 tsp vanilla extract
3 tsp cinnamon (divided)
2 tsp nutmeg (divided)
1 cup maple syrup
6 tbsp butter (divided)
2 granny smith apples, thinly sliced in rings
1/2 cup pecans
Preparation
In a large bowl whisk together eggs, coconut milk, vanilla, 2 tsp of cinnamon and 1 tsp of nutmeg until smooth.
In a large skillet or griddle add enough butter to coat surface and bring to medium heat. Test the temp of the skillet with a drop of the custard, it should sizzle, but not be smoking.
Working with one slice at a time soak the french bread in the custard and add to prepared skillet. Allow to cook without turning until golden brown. (If browning too quickly, reduce heat) Turn and continue to cook the other side. Once cooked set aside on a baking sheet in preheated oven. Continue with remaining slices, keeping warm in the oven.
In the same skillet over medium/low heat add the maple syrup, remaining butter and remaining cinnamon and nutmeg. Warm until it begins to bubble, stirring frequently. Add apple rings to the maple syrup stirring until coated. Allow to cook until apples are just tender, but not falling apart. Remove and set aside. Add pecans to the syrup mixture and cook for 3 minutes. Remove from heat.
When ready to serve, top french toast with poached apples, warm pecans and the maple sauce from the pan. Enjoy!
Recipe by: The Modern Proper