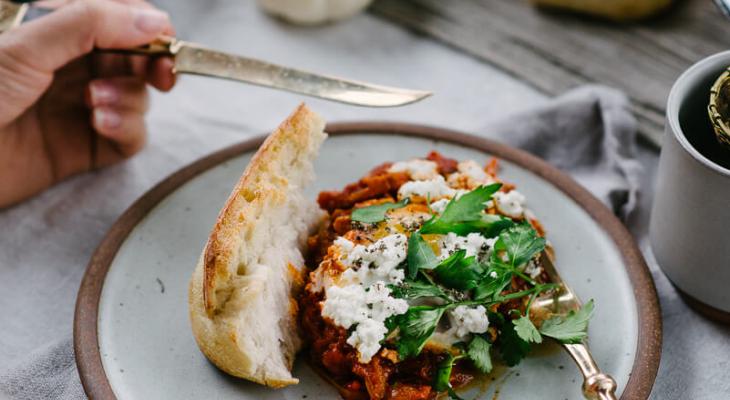 Full of delicious flavors and simple to make, this Shakshuka recipe is traditionally a breakfast dish but also shines at brunch.
Ingredients
La Brea Bakery Bread (We recommend our Demi Sourdough Baguettes)
2 Tablespoons Olive Oil
1 Yellow Onion, approx 1 cup, thinly sliced
1 Orange Pepper, thinly sliced
1 Red Pepper, thinly sliced
1 Green Pepper, thinly sliced
1 Tablespoon Smoked Paprika
1 Teaspoon Cumin
1 Teaspoon Dried Chili Flakes
1 large can (28oz) Stewed Tomatoes
Optional spoonful of sugar (see directions)
Salt to taste
4 Eggs
Chevré
Fresh herbs like Parsley & Cilantro
Preparation
For this recipe, it works best if you use a skillet that has a lid. You won't be putting the skillet in the oven but you will need a lid to poach the eggs.
In a medium sized skillet over medium low heat, drizzle olive oil & begin to sauté the onions & peppers. Allow the onions & peppers to caramelize by spreading them thin, letting them sit for a few minutes & then stirring to spread thin again.
Once peppers are caramelized, add spices & stir for a few seconds to allow the spices to become fragrant.
Add in tomatoes & stir to combine. Allow sauce to bubble & taste. If sauce doesn't have a touch of sweetness or tastes too acidic, add a small spoonful of sugar to sauce. Season to taste with salt.
Once sauce is seasoned to taste, lower the temperature a bit so the sauce is just barely bubbling.
Using a small spoon, dig a 'well' for the eggs in 4 places in the sauce.
Crack each egg & slowly pour into the wells.  
Using a small spoon, quickly try to surround the eggs with sauce to help cook the whites, leaving the yolks uncovered.
Place a lid over the top of the skillet.
Poach the eggs for approximately 5 minutes. Then remove the lid to test the firmness. 5 minutes is always my starting point for poaching the eggs. Depending on the heat level, size of your pan or temperature of your sauce they may require more time. If my whites aren't firm enough, I will cover & poach again in 1-2 minute increments until the white are firm & the yolks are still nice & runny.
Remove from heat & crumble chevré over the top.
Cover with fresh herbs.
Serve with crusty bread.
Recipe by: Eat Your Beets