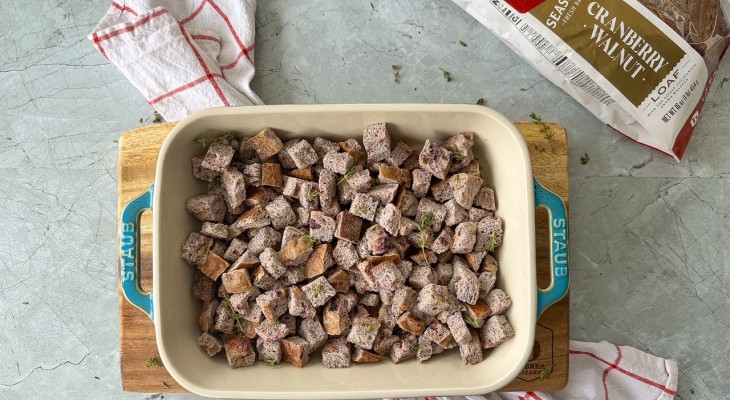 Ingredients
2 small onions, diced

4 ribs celery, diced

2/3 C butter

½ Tsp ground sage

1 Tsp black pepper

salt to taste

12 cups La Brea Bakery cranberry walnut bread cubes

3 C chicken broth

2 Tbsp fresh parsley
Preparation
1. Preheat oven to 350°F.
2. Melt butter in a large skillet over medium heat. Add onion, celery and sage. Cook over medium-low until tender (do not brown), about 10-12 minutes.
3. Place bread cubes in a large bowl. Add onion mixture and parsley
4. Pour broth overtop until cubes are moist (but not soggy) and gently toss. Season with salt and pepper to taste.
5. Place mixture in a serving dish, dot with additional butter and cover.
6. Bake 35 minutes, uncover and bake an additional 10 minutes.