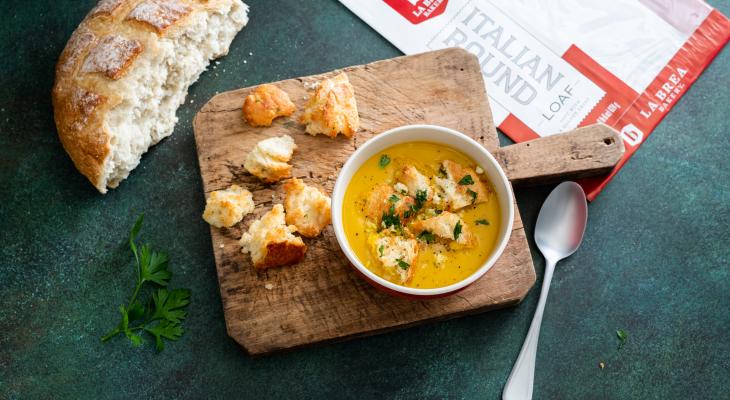 Ingredients
3 slices La Brea Bakery Italian Round Bread
1/4 cup crumbled blue cheese
1/2 cup chopped parsley
4 large sweet potatoes, cut in half
2 tbsp butter
1 cup finely diced yellow onion
1/2 cup finely diced celery
3 garlic cloves
1 tsp dried oregano
3/4 tsp ginger
1/2 tsp ground cumin
1/2 tsp salt
1/2 tsp black pepper
3 cups chicken stock
14 oz canned coconut milk
Olive oil
Preparation
1. Preheat oven to 400 degrees. F
2. Tear bread slices into 2-inch pieces and place on a baking sheet. Spray with olive oil and toast in the oven until golden brown, about 5 minutes. Transfer to a bowl. Add the blue cheese and parsley and toss until bread is evenly covered. 
3. To roast the sweet potatoes, line a baking sheet with parchment paper and toast potato halves with oil. Place on the baking sheet and roast for 30 minutes at 400 degrees. When cool, discard peels and transfer to a bowl and mash.
4. While potatoes are roasting, heat a large saucepan over medium. Add butter and allow to melt. Add diced onion and celery; cook, stirring occasionally, for 5 minutes. Grate garlic cloves into pan. Sprinkle in all the herbs and spices. Continue cooking for 1 minute.
5. Stir in stock and coconut milk. Bring to a low simmer. Whisk in mashed potatoes until combined and add salt and pepper to taste. For a smoother consistency, carefully transfer to a food processor or blender.
6. Ladle soup into a bowl and top with blue cheese croutons. Enjoy!