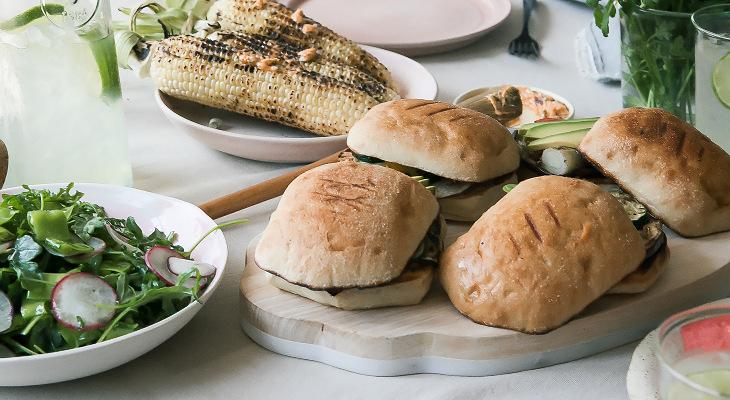 Ingredients
Short-Cut Chipotle Hummus: 
2 chipotles in adobo (from a can, I usually freeze the remaining chiles) 
8 ounces store-bought or homemade hummus
Pinch of salt, to taste 
Veggie Sandwiches: 
3 tablespoons olive oil, divided 1 zucchini, trimmed and cut into 1/4-inch slices
1/2 eggplant, trimmed and cut into 1/4-inch slices
1 red pepper, trimmed and cut into 1-inch slices
2 green onions
1 avocado, sliced, optional
Preparation
To Make the Short-Cut Chipotle Hummus: 
1. To a food processor, add the chipotles in adobo. Pulse until minced. Add the store-bought or homemade hummus; pulse until thoroughly combined. Give it a taste and adjust the salt to your liking. Set aside. 
To Make the Veggie Sandwiches: 
2. Preheat oven to 350 degrees F. Place the Telera rolls on a baking sheet. Transfer to the oven and bake for 5 to 7 minutes. There won't be a visual difference so be sure to set a timer. Allow the rolls to come to room temperature. Slice the rolls in half. 
3. Prep your grill and get it ready for grilling. Here's a link to setting up a grill. Brush both sides of the rolls with olive oil. Using tongs, place the bread slices on the hottest part of the grill, toasting them for about 30 seconds to a minute. Flip them over and toast for an additional 30 seconds. Remove and set them aside. 
4. To a bowl, add the vegetables, along with the remaining olive oil (about 2 tablespoons) and a few pinches of salt. Add the vegetables to the grill. I found the zucchini are cooked in about 3 minutes (over a 400 degrees F grill), flipping them about halfway. The eggplant, peppers and green onions took about 5 to 7 minutes. This will vary depending on where you put the vegetables on the grill (some spots are hotter than others) and what the temperature is. Use your best judgement! Remove them from the grill and set them aside. 
5. To assemble the sandwiches, smear a tablespoon or two of hummus onto each bottom half of the rolls. Top with a few vegetables and add the other half of bread. Add avocado if you like! Slice in half and serve.