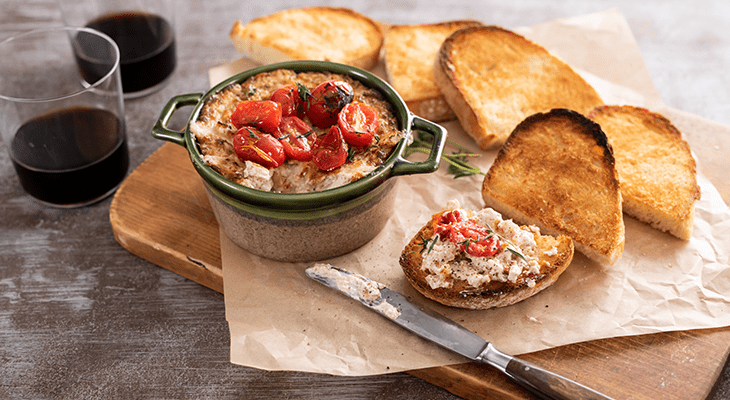 Ingredients
Italian Round cut into 1" slices and toasted
8oz cream cheese (room temperature)
1 cup mayonnaise
1 cup fresh grated parmesan
1 cup sweet onion diced
2 Tsp fresh black pepper
4 cherry tomatoes halved
2 sprigs fresh thyme
Preparation
Preheat the oven to 350°F 
In a bowl, mix together the cream cheese, mayonnaise, Parmesan, onion, and black pepper and until everything is thoroughly combined.
Pour the mixture into a 6-inch  baking dish or any oven-safe dish. Bake for 50 minutes to one hour, till everything is melted together. Add cherry tomatoes to top of dip 10 minutes before baking is finished, When the top crust is brown and almost burnt-looking, the dip is ready. The darker brown the crust becomes, the better the flavors are.  Add fresh Thyme and serve with La Brea Bakery Italian Round toast.