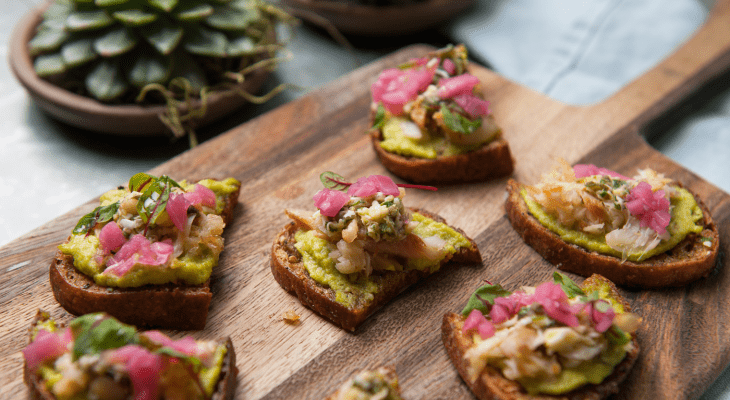 A quick and easy favorite. This recipe features flakey smoked trout, creamy fava bean hummus, and topped with just a touch of tart pickled red onion.
Ingredients
4 oz. Smoked Trout
4 oz. Pickled Red Onion
x Fava Bean Hummus:
2 cup Fresh Fava Beans, Cooked
4 oz. Olive Oil, Extra Virgin
1 ea. Shallot, Chopped Fine
1 ea. Garlic Clove
1 Tbsp. Lemon Juice
1 tsp. Cumin
x Gribiche Sauce:
1 cup Mayonnaise
½ cup Chervil, Packed
2 ea. Hard-Boiled Eggs, Peeled and Roughly Chopped
4 ea. Cornichons, Roughly Chopped
1 Tbsp. Dijon Mustard
1 Tbsp. Salt-Packed Capers, Rinsed
Salt & Pepper to taste
Preparation
To make the fava bean hummus, combine all ingredients in a food processor. Blend until smooth. Add salt and pepper to taste.
To make the gribiche sauce, combine all ingredients in the bowl of a small food processor and whip until thoroughly combined.
Toast the bread lightly.
Top with fava beans, smoked trout, pickled red onions and gribiche sauce. Serve immediately.