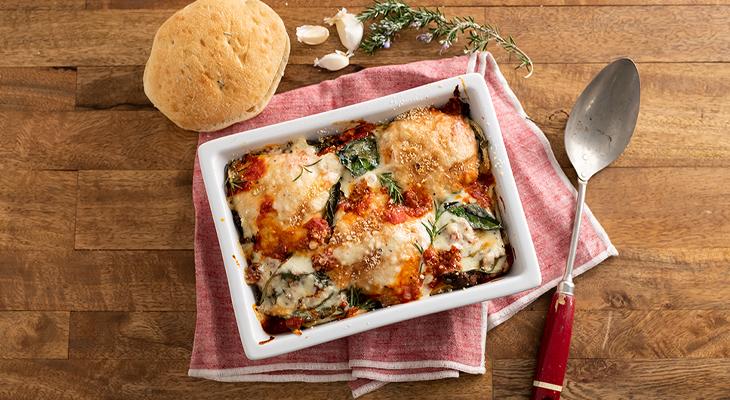 Ingredients
3 Boneless chicken breast fully cooked about 4oz each
1 cup grated mozzarella cheese
2 cups tomato sauce (favorite recipe or store bought)
1 cup grated parmesan cheese
2 sprigs fresh rosemary
1 cup fresh basil leaves
5 Tbsp cold butter + 1 tsp softened butter
¼ cup all-purpose flour
1 quart milk
2 tsp salt
Preparation
Preheat oven to 350 degrees.
Grease a 9x12 baking dish with softened butter and set aside.
Prepare Bechamel Sauce
Slice the rolls in half and arrange the bread so each piece lays flat and most of the bottom of the dish is covered. Cover generously with tomato sauce and then bechamel. Add some parmesan and the chicken breast pieces on top.  Next, add another layer of tomato sauce, bechamel and mozzarella cheese. Sprinkle the remaining parmesan cheese and top with the fresh herbs.
Place in the oven and bake for 15-20 minutes until it is golden brown on top. Remove from oven and serve warm.

For Bechamel Sauce
Melt butter in a large saucepan over medium heat.
Stir in flour and cook until a light golden color about 7 minutes.
Increase the heat to medium and slowly whisk in milk until thickened.
Bring to a simmer and then reduce heat to medium low and continue simmering until the flour softened, 10-20 minutes.
Season with salt.